Embrace the flavours of fall and winter with this vibrant butternut squash salad featuring juicy pomegranate seeds, creamy feta, crunchy pumpkin seeds, and a drizzle of honey mustard dressing. A seasonal delight!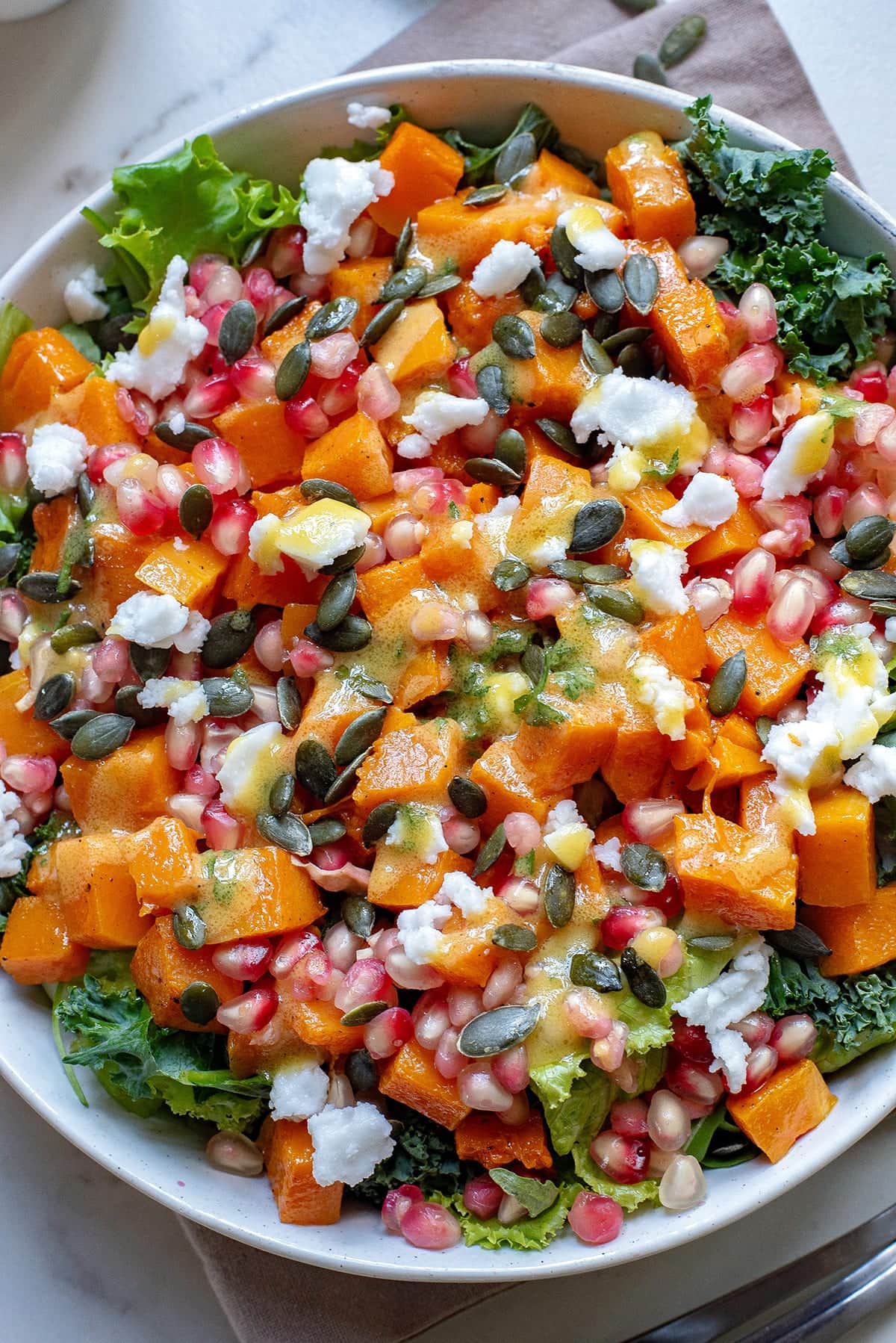 Perfect Fall & Winter Salad
This roasted butternut squash and pomegranate salad captures the essence of autumn and winter in a single recipe. You get a combination of warm and cold, crunchy and soft, sweet, tangy and salty all in every bite.
Butternut squash is cubed and roasted and combined with leafy greens, creamy feta, pumpkin seeds and fresh pomegranate seeds, all drizzled with a tangy honey mustard lemon dressing.
This salad is delicious any time of the year but is especially good for the holidays as it makes a fabulous addition to the Thanksgiving and Christmas table spread. You can use any type of winter squash or pumpkin for this recipe.
It's gluten-free, vegetarian and can be vegan-friendly using dairy-free feta.
🍂🎃☔️ For more seasonal recipes, check out my roasted vegetable chorizo & feta salad or my other fall harvest-style roasted pumpkin salad with garlic tahini dressing. Find more fabulous salads with winter squash and pumpkin here.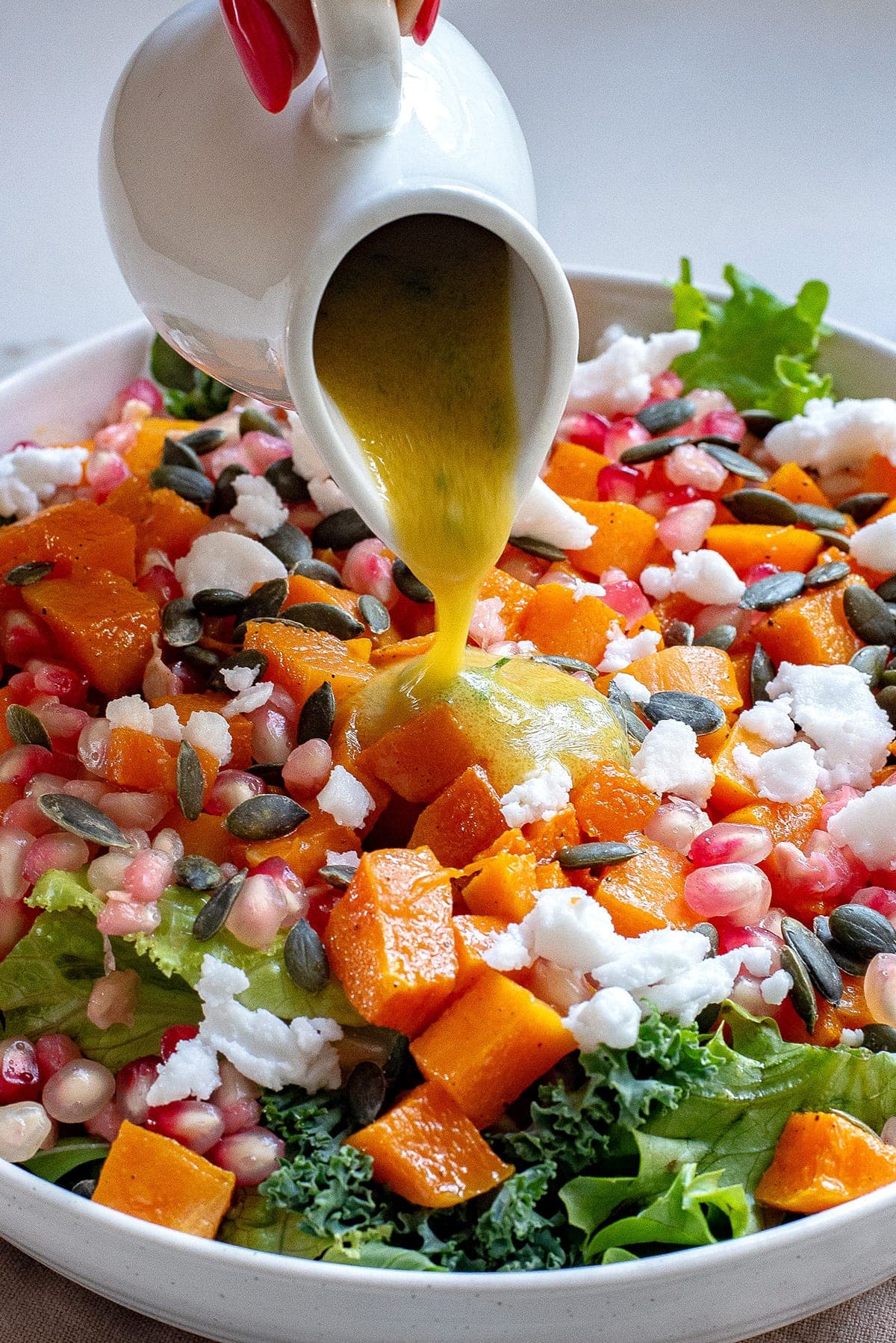 Ingredients
Here is what you need to make this butternut squash salad with pomegranate seeds:
Butternut squash – you will need half a squash for this salad; you can also use kabocha or another type of sweet winter squash here. This is simply seasoned with salt and pepper.
Pomegranate seeds – these are usually widely available in fall and winter but you can often get them all year round. Blueberries or grapes would be a good alternative.
Feta – I recommend milder, smooth feta here (e.g. Danish feta)
Pumpkin seeds – if not available, go for crushed almonds or walnuts or some sunflower seeds; that crunch is really lovely and the salad wouldn't quite be the same without some nuts or seeds.
Leafy greens – I used a combination of rocket (arugula), kale and lettuce but you can use any salad leaves here. Baby spinach would be lovely.
For the dressing – honey, mustard, lemon and olive oil, plus a little salt.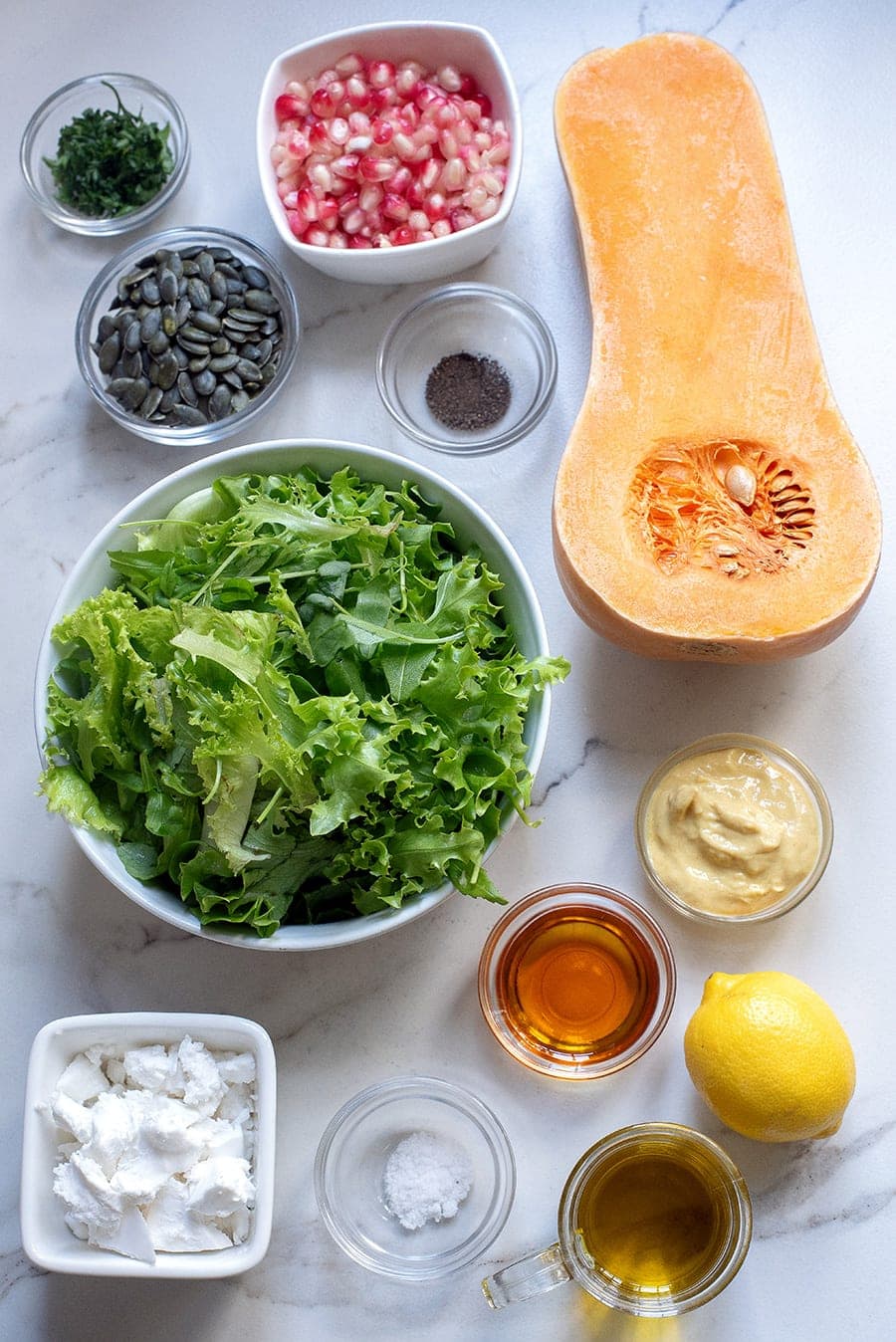 How To Make Butternut Squash Salad
Find the full list of ingredients, nutritional info, and instructions in the recipe card below. Here are some step-by-step pictures to guide you along.
Roast butternut squash until tender.
Make the salad dressing.
Assemble the salad and top with butternut squash. Drizzle with honey mustard dressing and toss.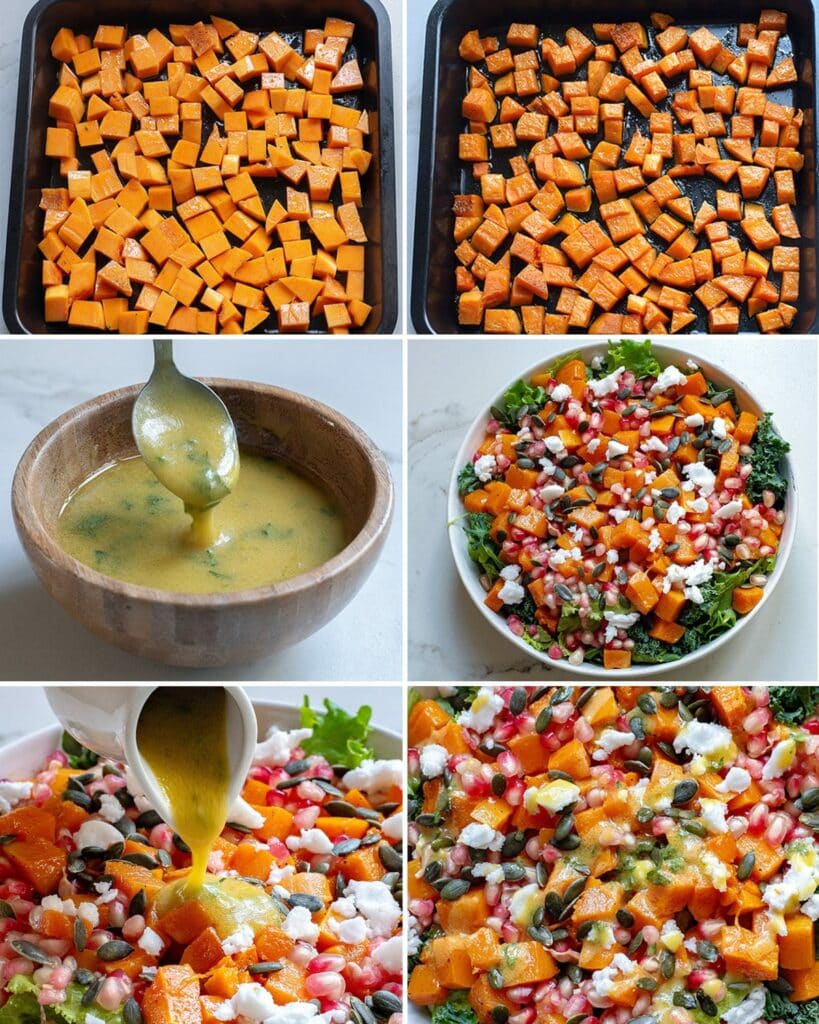 What To Serve Squash Pomegranate Salad With
This salad would go with any holiday main such as slow-cooked lamb shoulder, roast pork tenderloin or glazed ham. I also love it with grilled fish. And if you need to bring a dish to a holiday gathering, this will absolutely be a hit with everyone!
Variations
Add grilled chicken, prawns, or tofu for a protein boost. Season them with complementary flavours like rosemary or thyme.
Experiment with different nuts like toasted almonds, pecans, or walnuts instead of pumpkin seeds for an added crunch and flavour dimension.
Try using goat cheese, blue cheese, or even Parmesan instead of feta for a unique twist on the creamy cheese component.
Fresh herbs like parsley, cilantro/coriander, or mint can provide a burst of fresh, herbaceous flavour.
Enhance the dressing with a hint of citrus by adding orange or grapefruit zest for a zesty and aromatic twist.
Include caramelised onions for an extra layer of sweetness and depth of flavour.
Serve the salad on a bed of cooked quinoa, couscous, or farro to make it heartier and more filling.
Consider drizzling the roasted butternut squash with a touch of maple syrup for a different flavour profile.
Create an avocado-based dressing or add sliced avocado to the salad for a creamy, rich element.