This Chicken Broccoli Alfredo with Penne Pasta recipe is my ultimate comfort food. Creamy and flavourful, this recipe is loaded with tender chicken, and nutritious broccoli, and coated in a luscious Alfredo sauce. I will show you my quick and easy way of making it from scratch, with no canned sauces.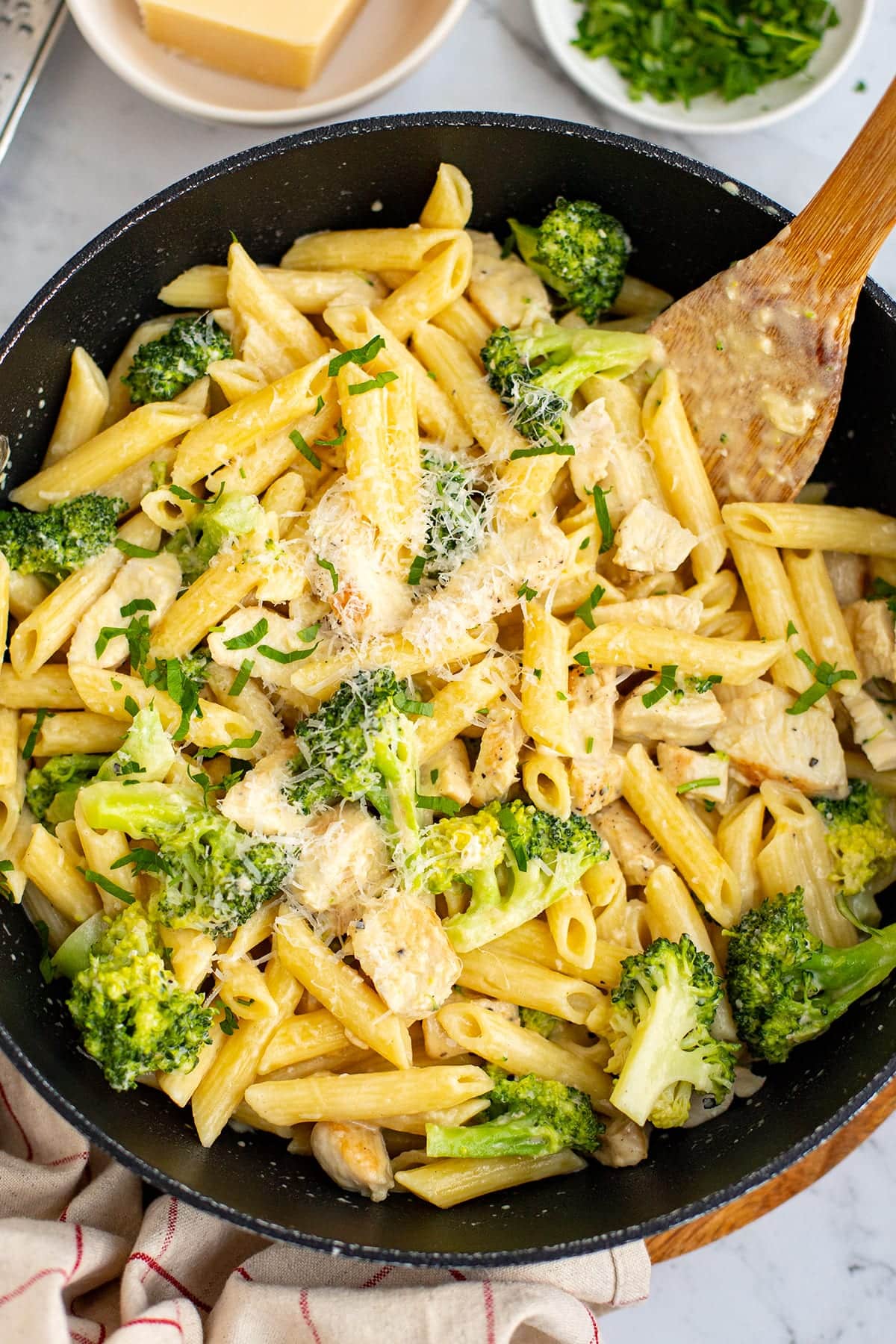 Chicken Broccoli Alfredo With Penne Pasta
This creamy penne pasta combines tender chicken, fresh broccoli, and a rich, creamy Alfredo sauce to create a comforting and delicious meal.
Personally, I really don't like canned or jarred Alfredo sauce but I love it when it's made from scratch using a combination of butter, grated Parmesan cheese, heavy cream, garlic, and seasonings. It's velvety smooth sauce that coats the pasta perfectly.
This recipe is easy to make, has an amazing taste, and is very cosy – my family loves it.
Serve this dish with a sprinkle of freshly grated Parmesan cheese and a side of garlic bread or a fresh green salad for a complete and satisfying meal.
PS. Whenever I want a low-carb meal, I make the exact same dish without the pasta but with extra chicken, and broccoli and I throw in some extra veg. Or, you can try a much lighter chicken broccoli stir-fry or the chicken and vegetable skillet.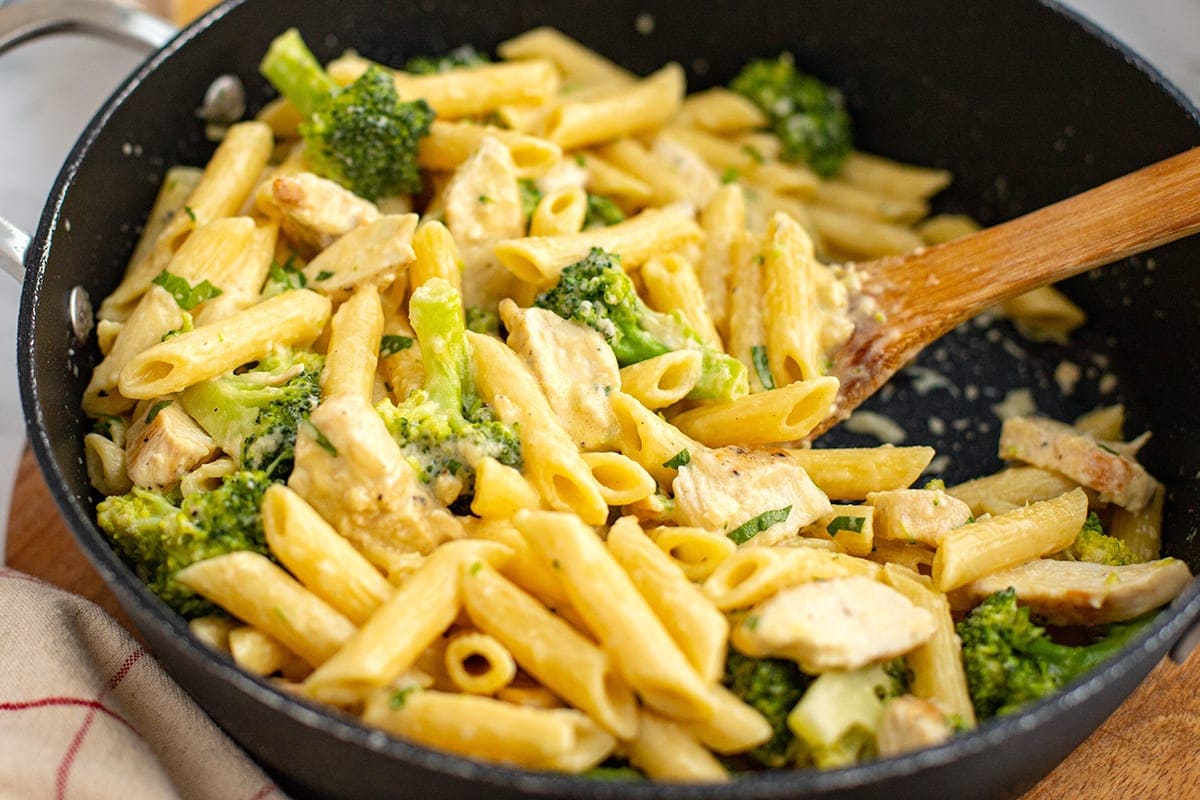 What Is Alfredo Sauce?
Alfredo sauce is a classic Italian sauce that is known for its rich, creamy texture and indulgent flavour. It is made primarily with butter, grated Parmesan cheese, and heavy cream. The combination of these ingredients creates a smooth and velvety sauce that is often used in pasta dishes.
Which Pasta To Use With Alfredo Sauce?
When it comes to pairing pasta with Alfredo sauce, it's important to choose a type that can hold the sauce well and provide a satisfying bite, like penne. The tube-like shape and ridges of penne allow the sauce to cling to the pasta, ensuring each bite is coated with creamy goodness. Penne pasta also has a slightly firm texture, which adds a pleasant chewiness to the dish.
You can also experiment with other short pasta shapes like fettuccine, linguine, or rigatoni, based on your preference.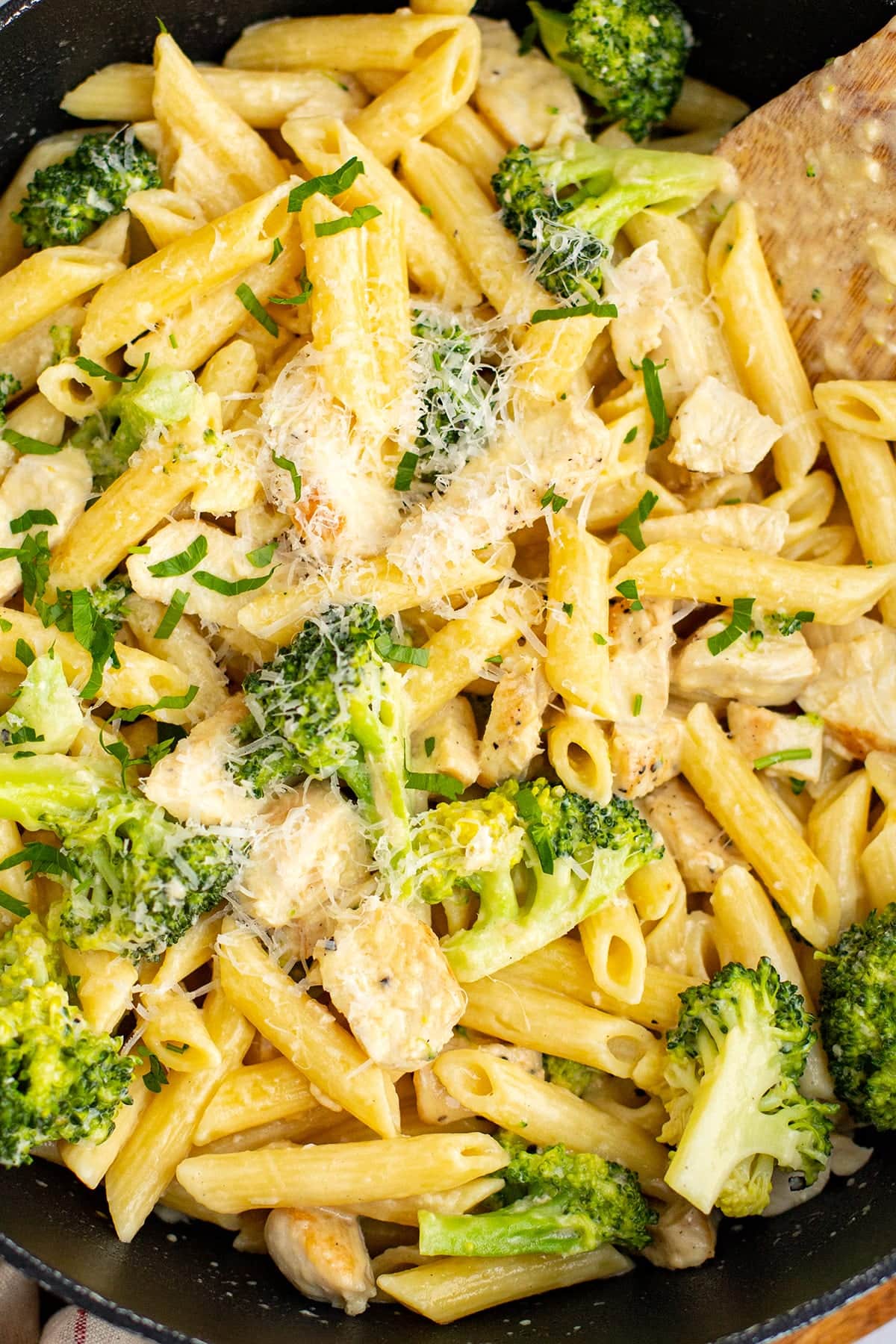 Ingredients
Here is what you need to make this recipe:
Pasta – I used penne but you can sub with fusilli, fettuccine, and rigatoni. Make sure the pasta is cooked al dente, which is best for creamy sauces.
Chicken – as this Alfredo dish comes with pasta and broccoli, you only need one large chicken breast or 2 smaller ones. The chicken is pan-fried prior to being tossed through the sauce, however you could also use leftover cooked chicken or Rotisserie chicken here.
Broccoli – you will need about half a large head of broccoli for 4 servings. I like to allow 3-4 florets per person; make sure to cut larger florets in halves so they are all cooked evenly.
For the sauce: butter, cream, Parmesan (or Pecorino), garlic, salt and pepper.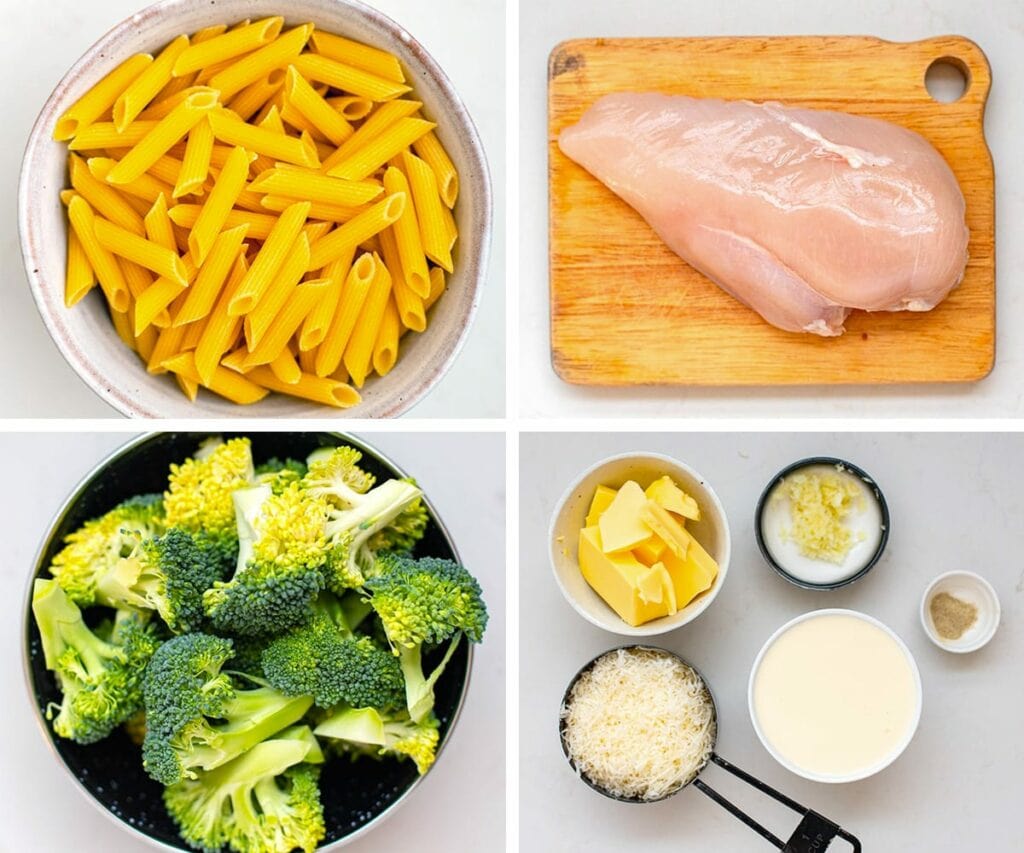 How To Make Chicken Broccoli Alfredo
Step 1. In a large pot of salted water, cook the pasta as per instructions, to al dente texture. When straining the pasta, make sure to reserve ¼-½ cups of the pasta water for the sauce.
Step 2. Pre-cook broccoli. Place a sieve or a steamer basket over the pasta pot and add the broccoli florets. Cover with a lid and steam for 6-7 minutes. Set side.
Alternatively, pre-cook the broccoli by blanching it in a pot of boiling water for 1-2 minutes, then drain and place in icy cold water to retain its vibrant green color. Strain and set aside.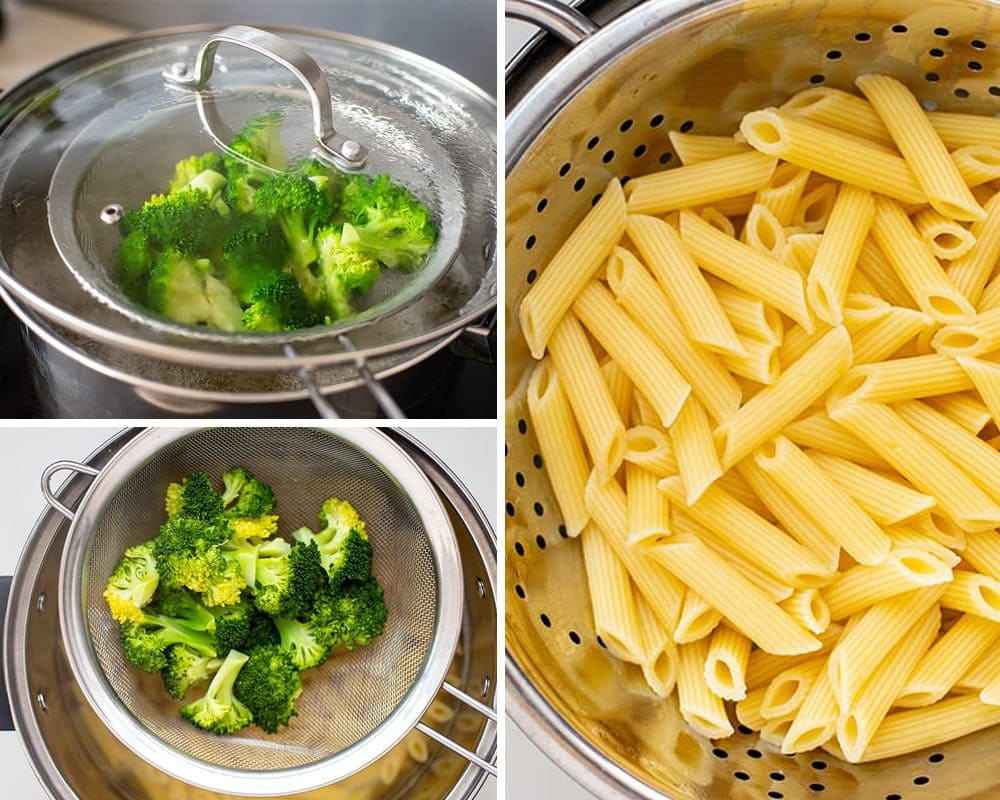 Step 3. Cut chicken in 4 strips and season with a little salt and pepper.
Step 4. Pan-fry in a little olive oil over medium-high heat for 4-5 minutes each side, until golden brown. Remove to a cutting board and rest for a few minutes. Then, slice the chicken into bite-size pieces.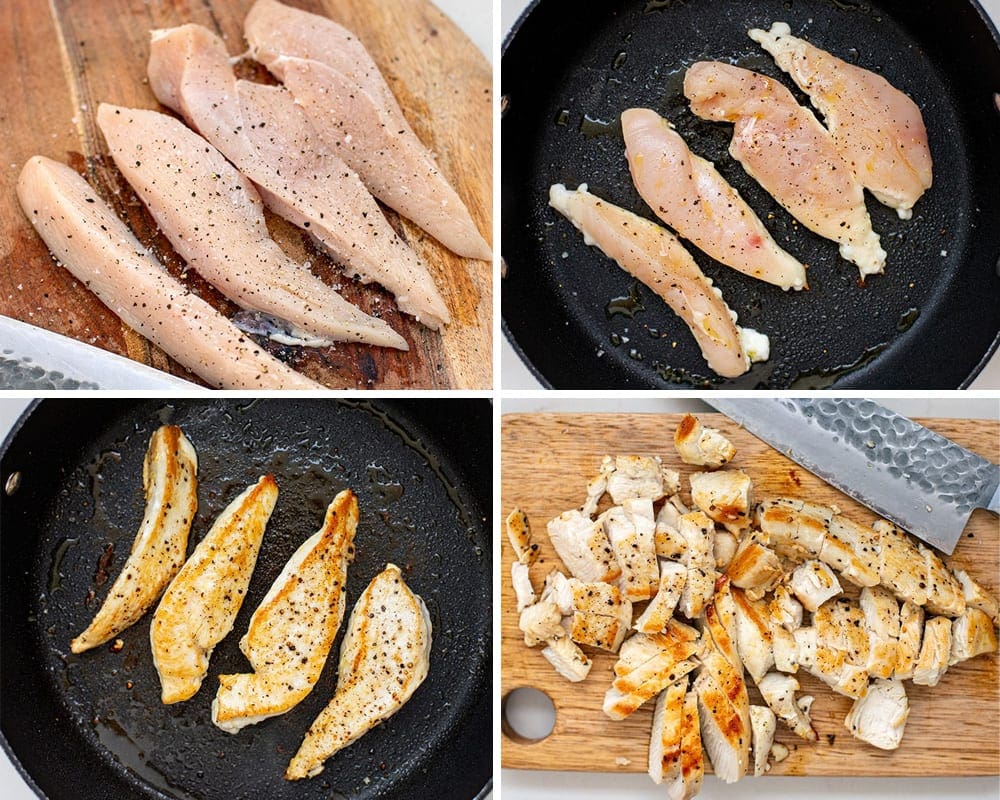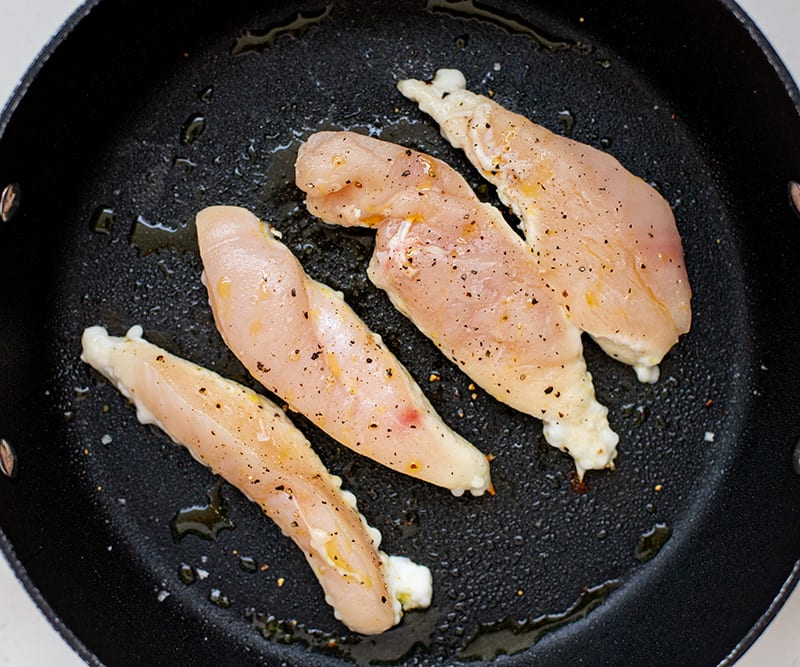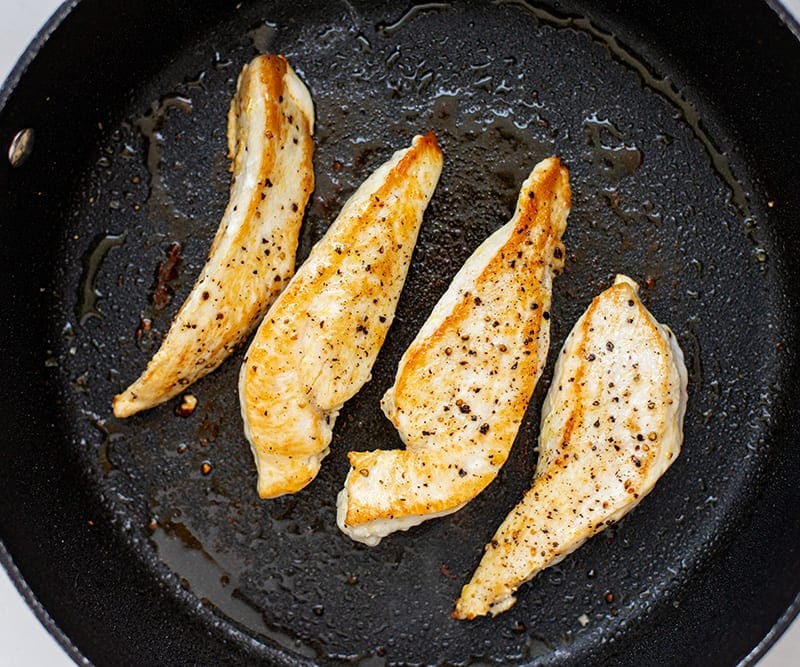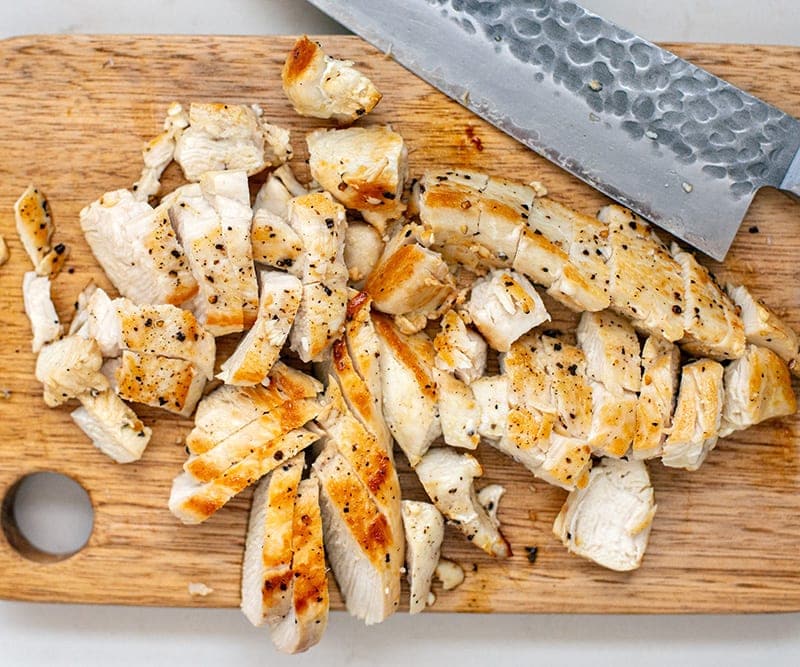 Step 5. Make the sauce. Using the pan from the chicken, melt the butter and garlic and cook for 1.5 minutes over medium heat, stirring frequently, until fragrant. Be careful not to burn the garlic.
Step 6. Pour in the cream and add the Parmesan cheese. Heat through and cook for about 4 minutes over medium heat,  stirring frequently. It will simmer and bubble away gently and the sauce should thicken enough to leave a coating on the spatula.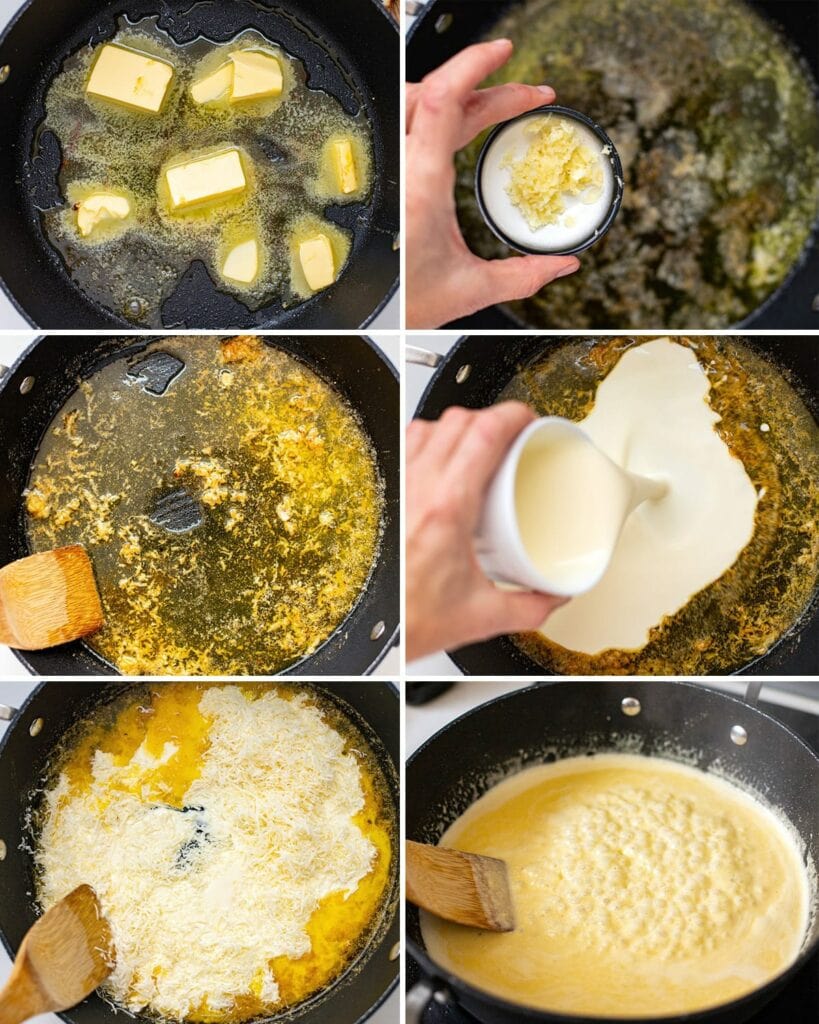 Step 7.Taste and add pepper and salt, adjusting the amount to your taste. Remember that the Parmesan cheese is already salty, so you may not need to add too much additional salt.
Step 8. Add the sliced chicken, pre-cooked broccoli and penne pasta. Add about ¼ cup of the pasta water and toss everything through the sauce until well coated.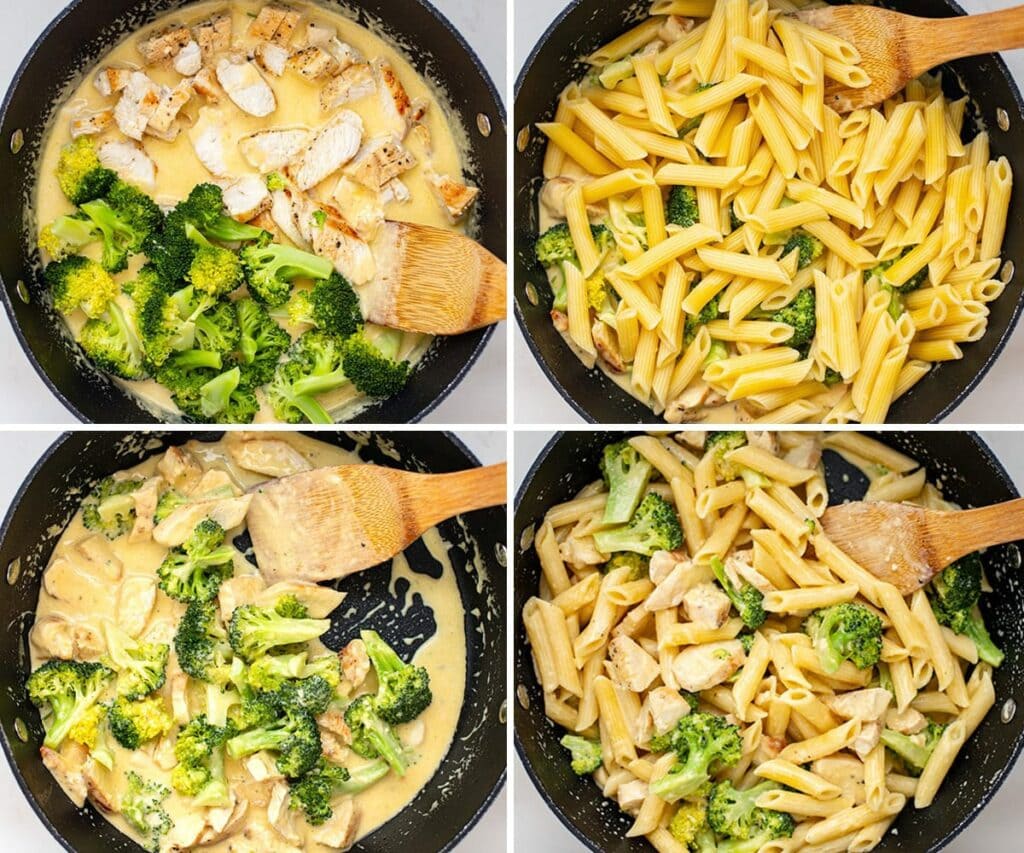 Watch The Video
Recipe Tips
For added flavour, you can season the chicken breast with salt, pepper, and your choice of herbs or spices before cooking.
To ensure the broccoli retains its vibrant green colour and texture, blanch it in boiling water for a few minutes until slightly tender, then immediately transfer it to an ice bath to stop the cooking process. Or, you can use our method and steam the broccoli over cooking pasta.
Adjust the seasonings according to your taste preference. Feel free to add more garlic, Parmesan cheese, or spices to enhance the flavour profile of the dish.
To make this recipe vegetarian-friendly, omit the chicken and substitute vegetable broth for a flavourful vegetarian Alfredo sauce.
Storage Tips
If you have any leftovers of this chicken broccoli Alfredo pasta, you can store them in an airtight container in the refrigerator for up to 3-4 days. When reheating, add a splash of milk or cream to the pasta to bring back the creamy consistency.
Can You Freeze Alfredo Sauce?
However, it's important to note that Alfredo sauce does not freeze well, as it can separate and become grainy upon thawing. It's best to enjoy this dish fresh, but if you must freeze the leftovers, it's recommended to freeze the chicken and broccoli separately from the pasta and sauce. This way, you can prepare fresh Alfredo sauce when reheating the frozen components, ensuring the best taste and texture.