These crispy garlic prawns are simply the BEST! This recipe is a combination of two of my favourite dishes – Hawaiian garlic shrimp and Spanish prawns (gambas al ajillo) – taking the best from each. You'll be lucky if the skillet makes it to the table!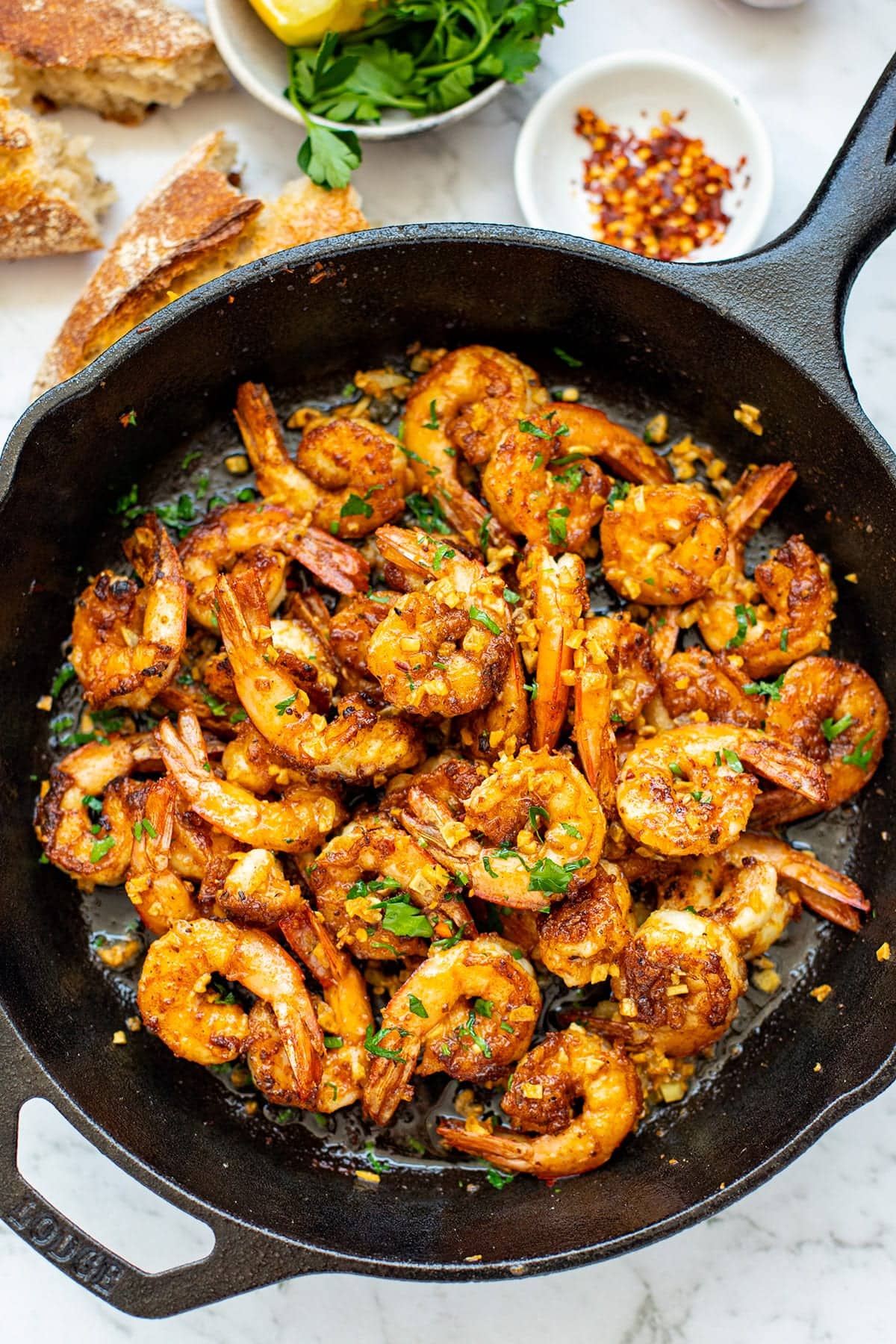 Crispy Garlic Prawns
These are the best garlic prawns I've ever made. It's a bit of a mash-up between Hawaiian garlic shrimp and Spanish garlic prawns, both of which I love very much.
Seasoned, crispy buttery prawns coated in garlicky oil and drizzled with a touch of lemon. The flavours are out of this world! When I finished shooting the recipe, I thought we'd try a few prawns and save the rest for lunch later on. Instead, my partner and I stood over the skillet and at the whole lot on the spot, mopping up every garlic oil morsel with a sourdough baguette.
As I mentioned, it's a mix of two recipes. Shrimp? Prawns? These words are interchangeable depending on your location.
Hawaiian garlic shrimp, in which the crustaceans are coated in a delicious mix of rice flour, paprika and cayenne, then fried with the shell on until soft and crispy. The shrimp are then served with loads of golden, fried garlic on top.
Spanish garlic prawns, in which the prawns are cooked in lashings of garlic flavoured oil, often seasoned with paprika, and finished with lemon and parsley. White wine is sometimes used. The prawns are not coated in anything and are usually peeled, often served in a sizzling pot or skillet. In this dish, the garlic is more sauteed/confit than fried compared to the Hawaiian version.
In my garlic prawns recipe, you get a bit of both and I think it's the best combination ever.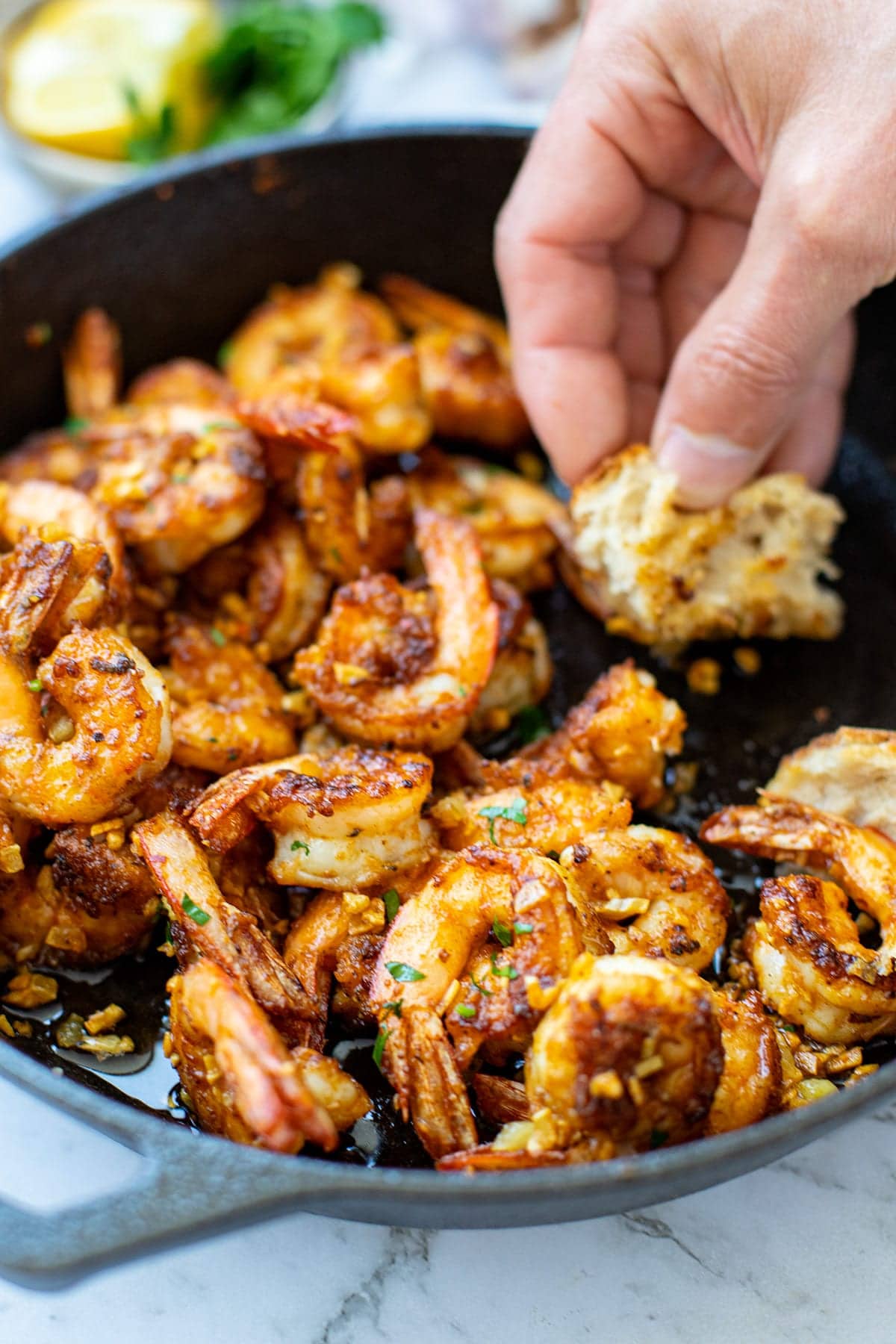 👉 Love prawns/shrimp? Try my grilled shrimp salad, Mongolian shrimp, or my grilled shrimp with Alabama white sauce.
What You'll Need
Here is what you need to make this garlic prawns recipe:
Large king prawns (shrimp) – you can use fresh or frozen (thawed out).
If using prawns with the shell on, the first step is to remove the shells while leaving the tails on. Once you remove the shells, cut each prawn along the top, about halfway down. Remove the black thread or line that runs along the top (that's the digestive tract of the prawn (eeww!) and while safe to eat, I like to remove if peeling the prawns.
Alternatively, save yourself 20 minutes of prep time and buy de-shelled prawns, ideally with the tails on but not essential. You can also use frozen shrimp and defrost it in a bowl of warm water for 15 minutes.
I still recommend cutting the top of the prawns for a visual effect as they curl up so nicely when cooked.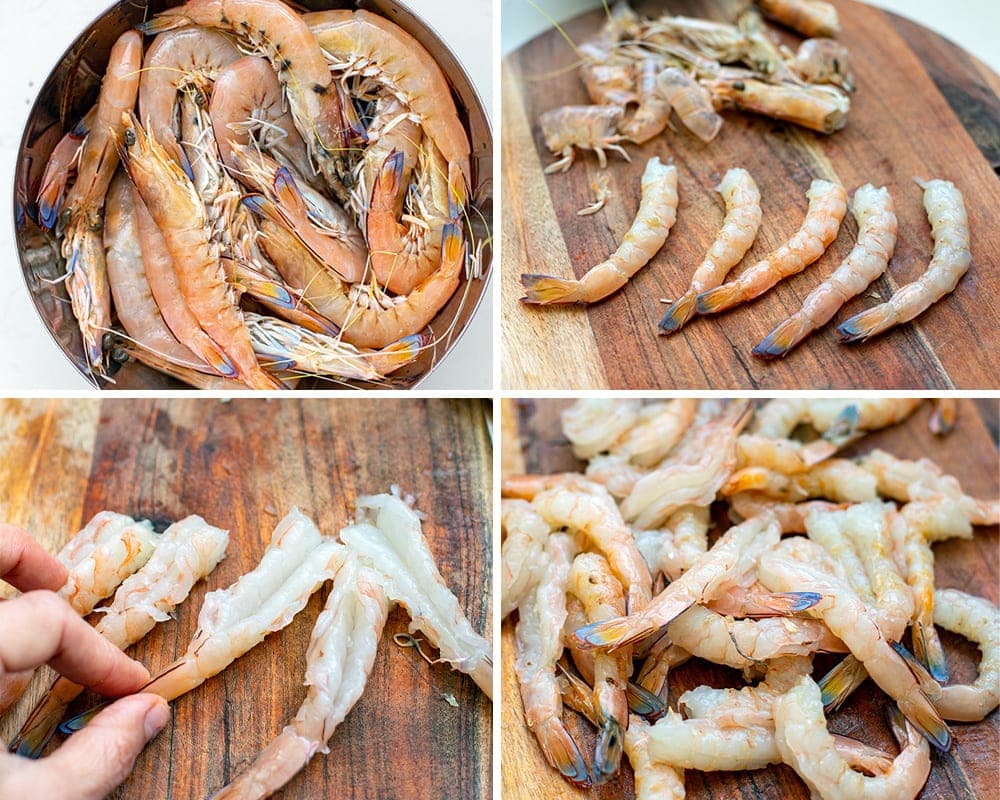 Fresh garlic (please use fresh for this recipe), olive oil, butter, smoked paprika, salt, black pepper, lemon, and parsley for garnish.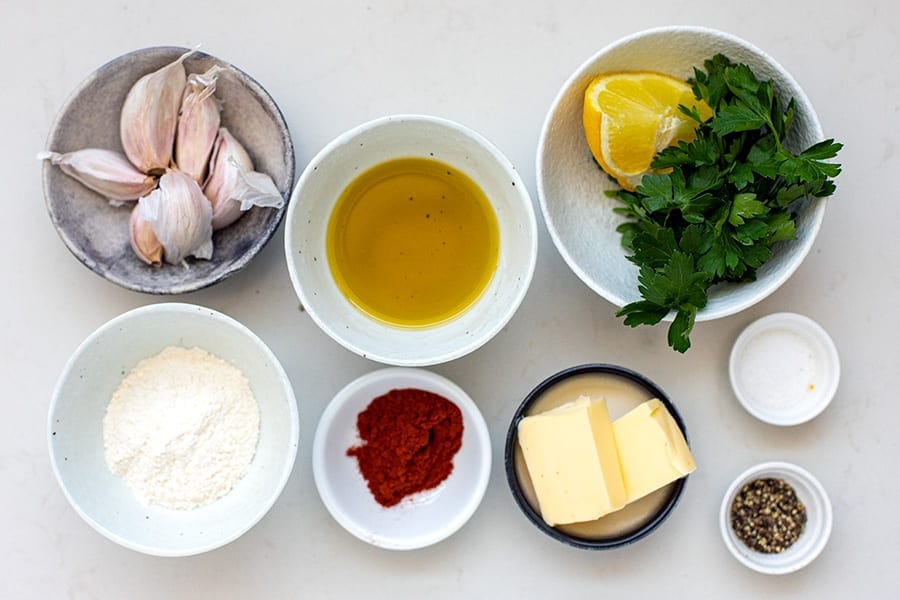 How To Make Garlic Prawns
Find the full list of ingredients, nutritional info, and instructions in the recipe card below. Here are some step-by-step pictures to guide you along.
Pan-Fry The Garlic
Peel the garlic and dice it quite small but not minced or crushed. You want them to be tiny little cubes or pieces, similar shapes so they cook evenly and flavour the butter/oil. If the garlic is cut too finely or minced, it will be too small and will easily burn before it can do the job. Set aside.
Place a medium to large skillet or frying pan over medium heat. Once hot, add 1/4 cup of olive oil and half of the butter (about 15 grams). Add the garlic and a pinch of salt. If using unsalted butter, add a little more salt. Cook for 2-3 minutes, stirring frequently, until the garlic is golden and looks like it's about to go golden brown. Don't let it get too brown or it will taste bitter and burnt. We want golden!
Remove ALL of the garlic and oil to a bowl and set aside.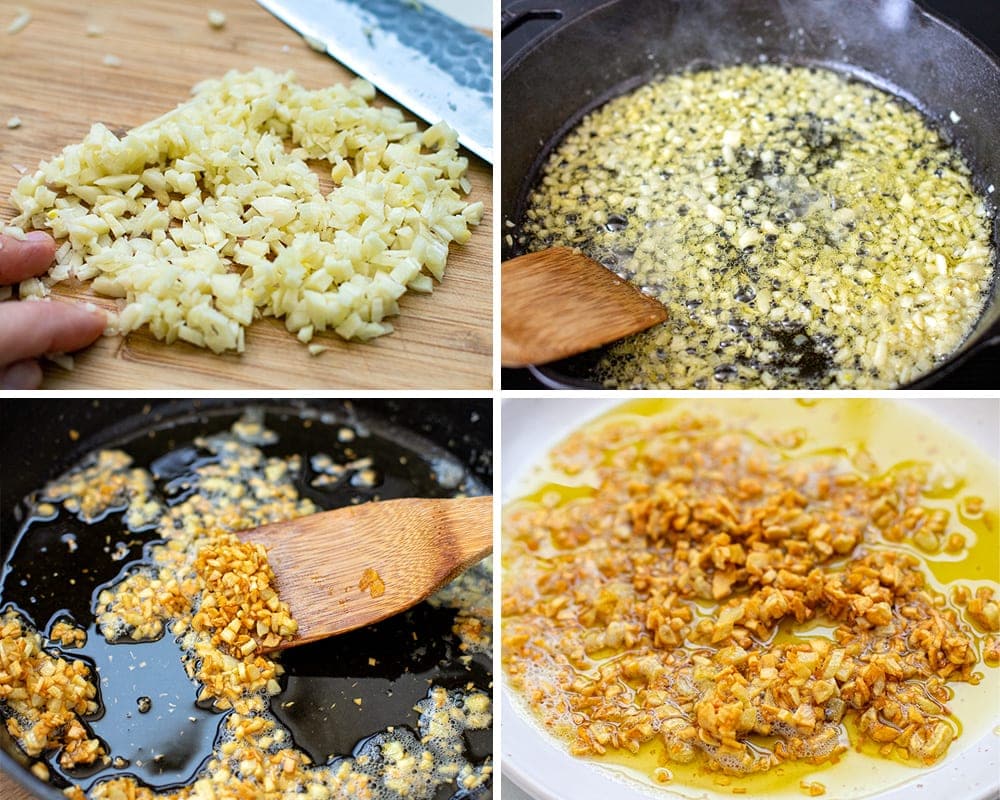 Pan-Fry The Prawns
Combine flour, smoked paprika, salt and pepper and mix in a medium bowl.
Add the peeled, de-veined prawns to the bowl with the flour mixture and toss through to coat evenly.
Place the used skillet back on medium to high heat (7 on induction). Add about a teaspoon of olive oil and half of the remaining butter (a teaspoon or so). Once melted and sizzling, add half of the prawns in one layer, making sure that none are overlapping. Cook for 2 minutes on each side (turn each one individually with tongs) and remove to a bowl.
Repeat with the remaining prawns, adding another splash of oil and the last bit of the butter to the pan. If using a cast iron skillet, it will be super hot by now so you may need to turn the heat down slightly.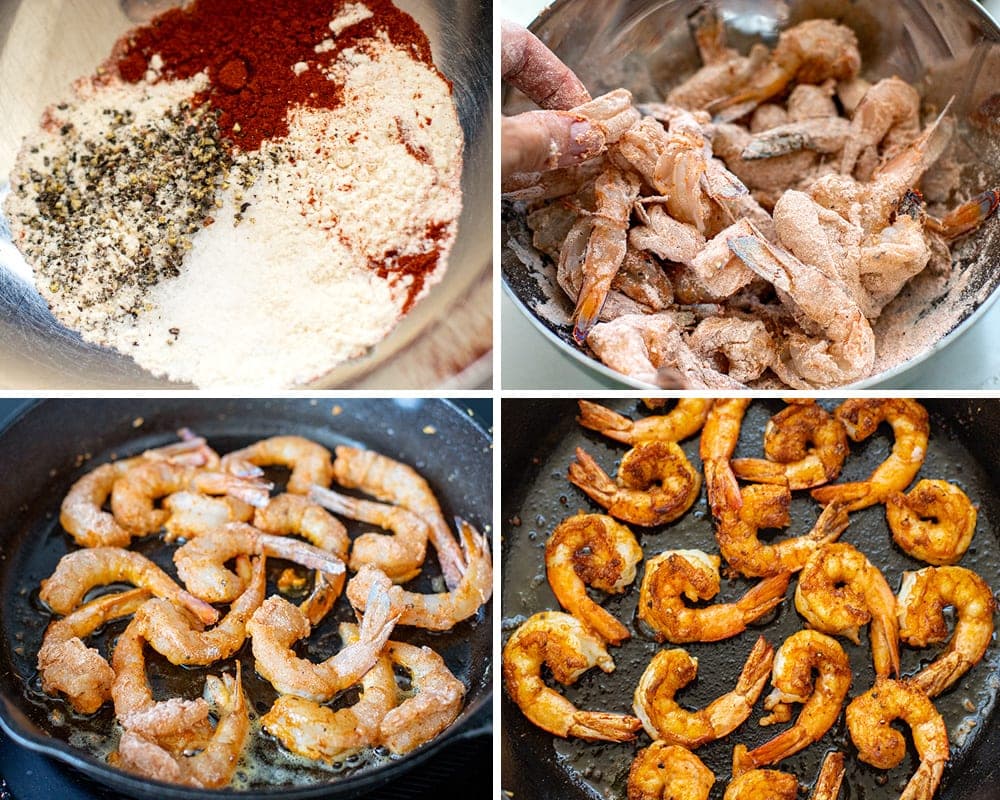 Combine Garlic & Prawns
Once the second batch of the prawns is cooked, return the first batch to the skillet and pour the fried garlic and oil over the top. Remove from heat. Drizzle with juice of 1/4 lemon and stir through. Sprinkle with parsley. Taste and see if you prefer more lemon or serve a wedge on the side.
Serve while hot over rice or with a side of sourdough bread or a baguette. That garlic and the oil can not be wasted!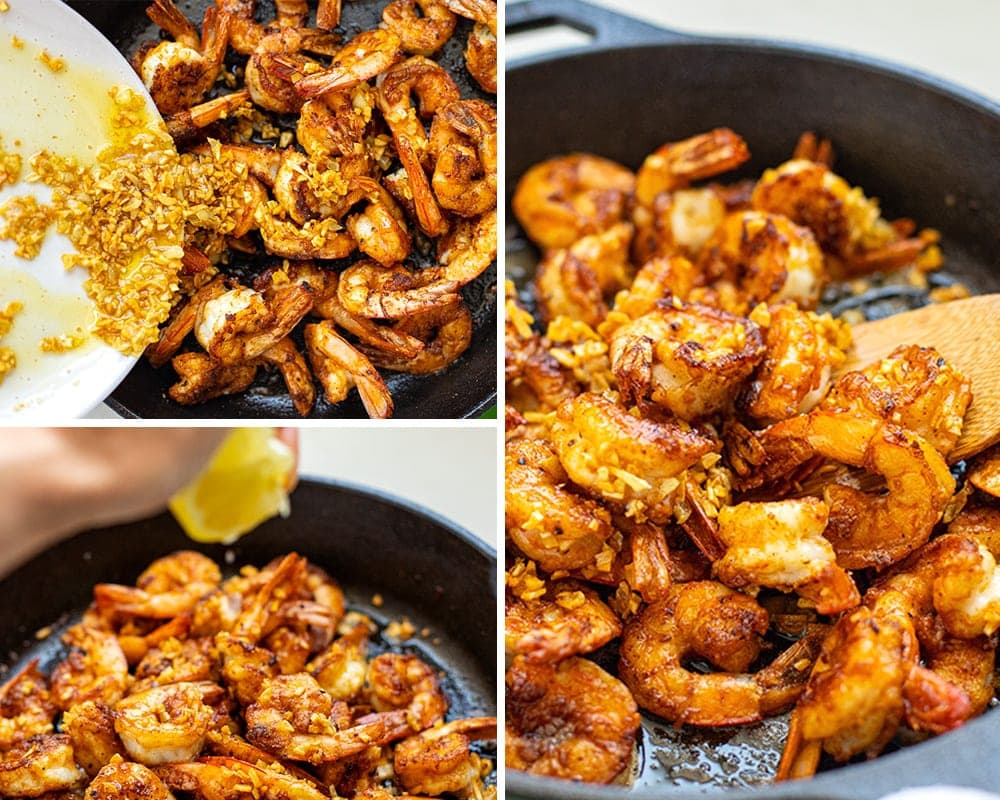 Recipe Tips
Cook the prawns for 1.5-2 minutes each side (I usually do 2 minutes on the first side and 1 minute on the other). Don't over cook the prawns or they will get tough and rubbery.
Keep an eye on the garlic and make sure to take off the heat as soon as it starts to turn golden brown. It's so easy to burn the garlic and it can turn bitter. This is why I recommend chopping garlic into small pieces rather than mincing or grating it.
A combination of olive oil and butter is key here. Butter gives you richness and flavour but can burn. Oil and butter work wonderfully together. If you must avoid dairy, you can get away with using more olive oil but you will be missing that buttery flavour. Ghee could also be used.
Make sure the prawns aren't soaking wet before coating them in flour. Give them a little pat with paper towel if needed.
Cook prawns in batches – use a large skillet and don't overcrowd it so that each prawn gets a chance to get properly crispy on each side. Turn each prawn individually using tongs rather than stirring them through.
What To Serve With Garlic Prawns
We ate the prawns straight out of the skillet, mopping up the sauce with some sourdough baguette. You can also serve them over rice, in shrimp tacos or in a salad bowl.
For a simple side dish, you can serve my go-to garden side salad, or this 5-minute zucchini salad with lemon and mint.