Get ready for a warm and scrumptious Pumpkin Bread Pudding With Caramel Sauce! This cosy dessert combines white stale bread, a luscious custard-like sauce infused with pumpkin puree and pumpkin pie spice, all baked to perfection and topped with a mouthwatering caramel sauce drizzle. It's a pumpkin-spiced dream come true and the best part is we show you just how EASY it is to make. Your family and guests will be asking for seconds!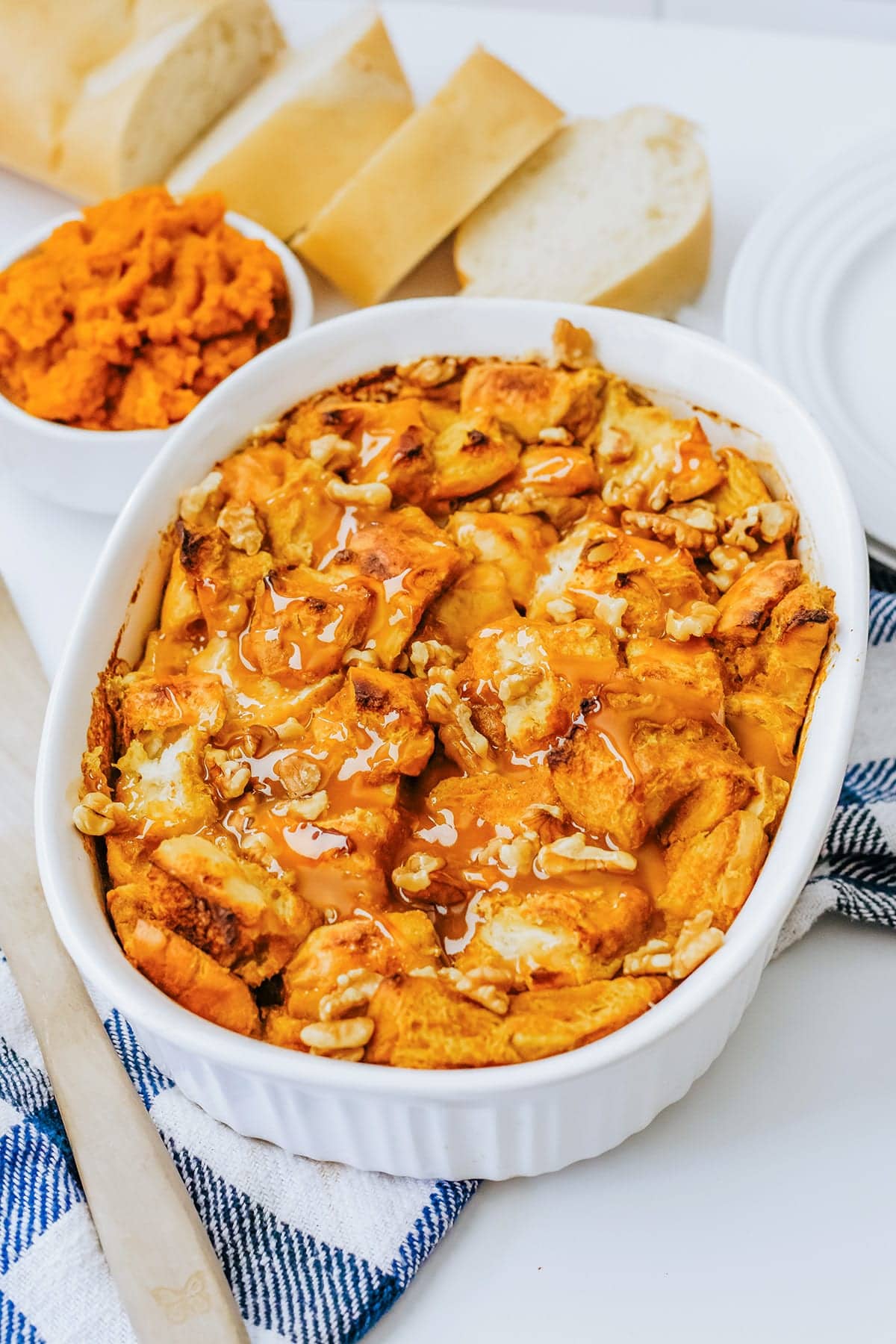 For All Bread Pudding Lovers
This pumpkin bread pudding is the epitome of fall comfort and deliciousness! And if you like traditional bread pudding, this pumpkin version will add a new twist to the favourite.
This dessert takes simple, white stale bread (you can use plain or gluten-free) and transforms it into a pumpkin-spiced dream. The caramel drizzle makes it even more decadent. Yep, this is pure indulgence.
My recipe will guide you step-by-step with handy photos and recipe tips, so you make an unforgettable bread pudding that is a sweet slice of autumn heaven.
Plus, make sure to check out some useful bread pudding FAQs to compliment your cooking experience.
🎃 If you love pumpkin desserts, make sure to check out my healthy pumpkin pie with pecan crust and topping (Paleo-friendly), and pumpkin sticky date pudding (also gluten-free/grain-free).
Ingredients
You need thickly sliced white bread (thinly sliced bread will turn too soggy), pumpkin puree (make sure it's 100% pumpkin and not a spiced version), half and half or cooking cream (you can use light here), milk, brown sugar, white sugar, eggs, pumpkin pie spice, vanilla extract and salt. For the sauce, I went with a store-bought caramel sauce. You can use this simple recipe to make your own caramel sauce.
For a lower-sugar version, you can replace brown sugar/white sugar with a sugar-free alternative.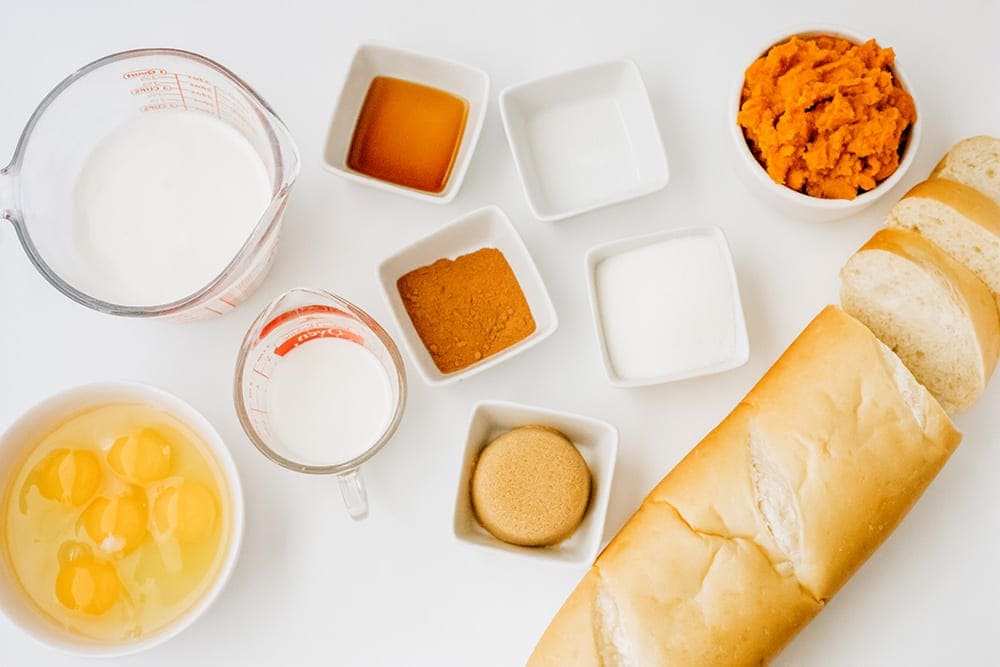 How To Make Pumpkin Bread Pudding
Find more recipe tips and the full recipe card below. Here are some handy step-by-step photo instructions to guide you along.
Step 1. Preheat the oven to 350 F / 175 C. Grease the cake pan with non-stick oil spray or some butter.
Step 2. Add half and half, milk, pumpkin puree, pumpkin pie spice, salt, eggs, both sugars, and vanilla in an extra large mixing bowl and whisk.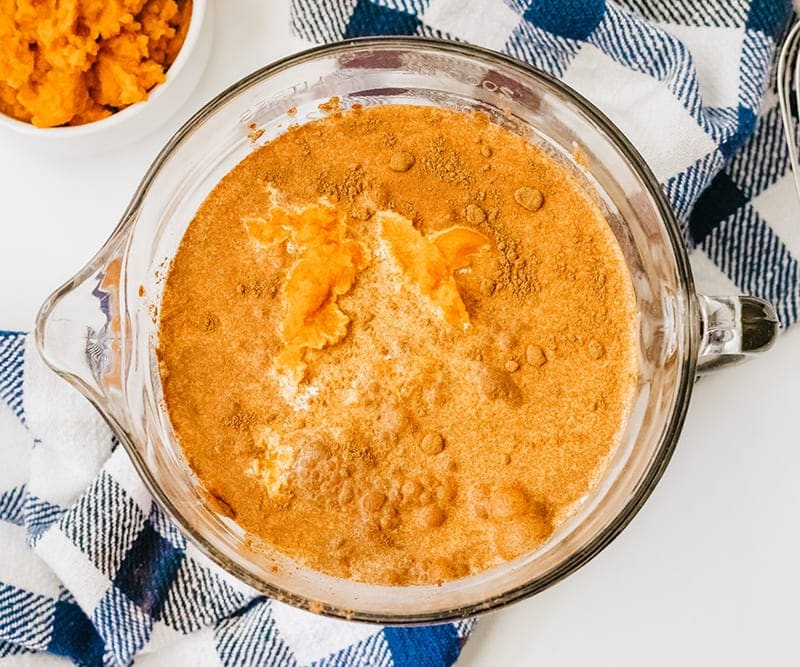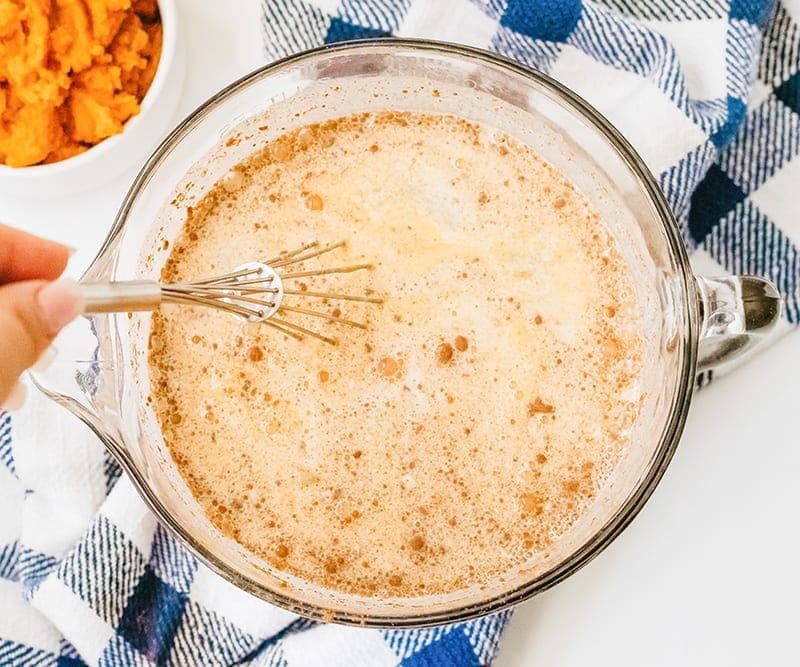 Step 3. Dice the bread into large chunks (about 1-inch by 1-inch) and add to the bowl with the custard sauce. Coat through and let them soak for about 10 minutes.
Step 4. Transfer the mixture into the prepared pan, leveling out the top. Bake for 40-45 minutes or until firm and not soggy.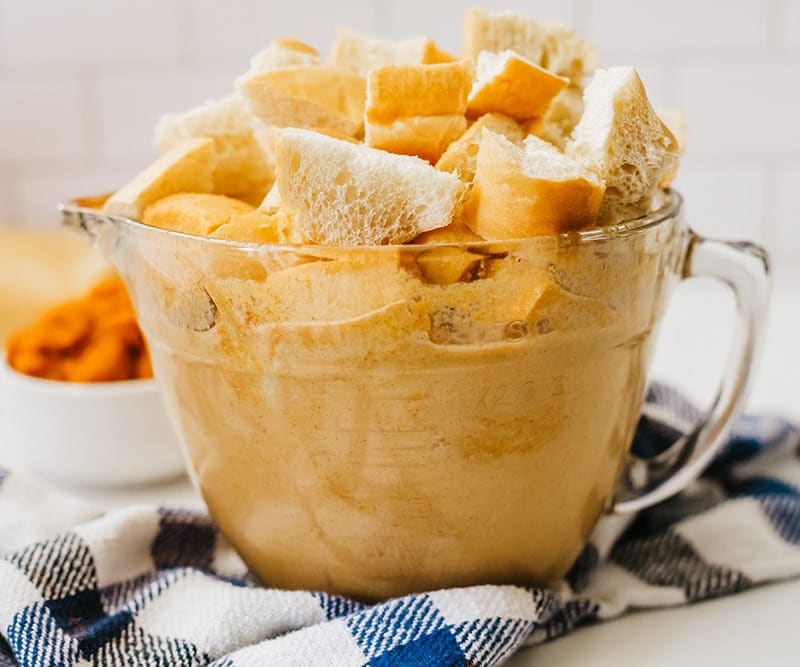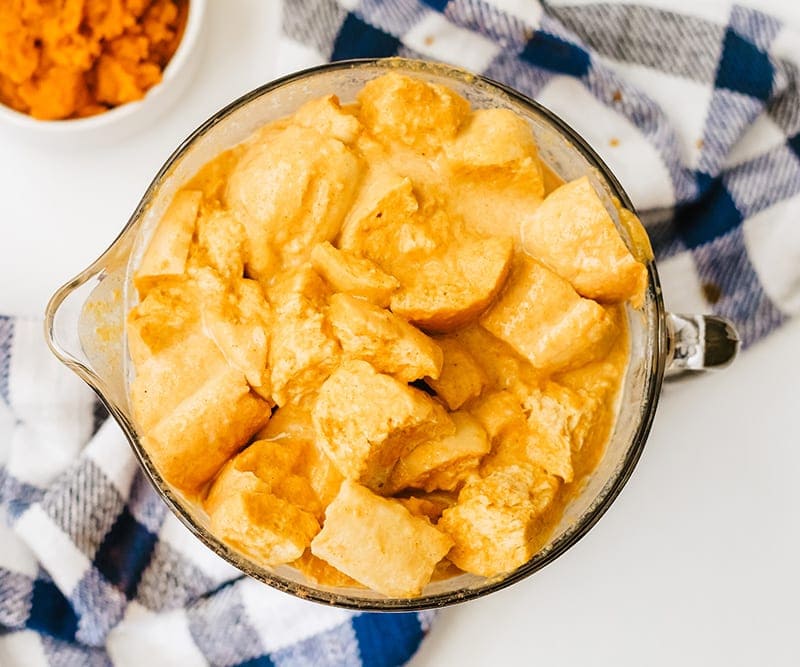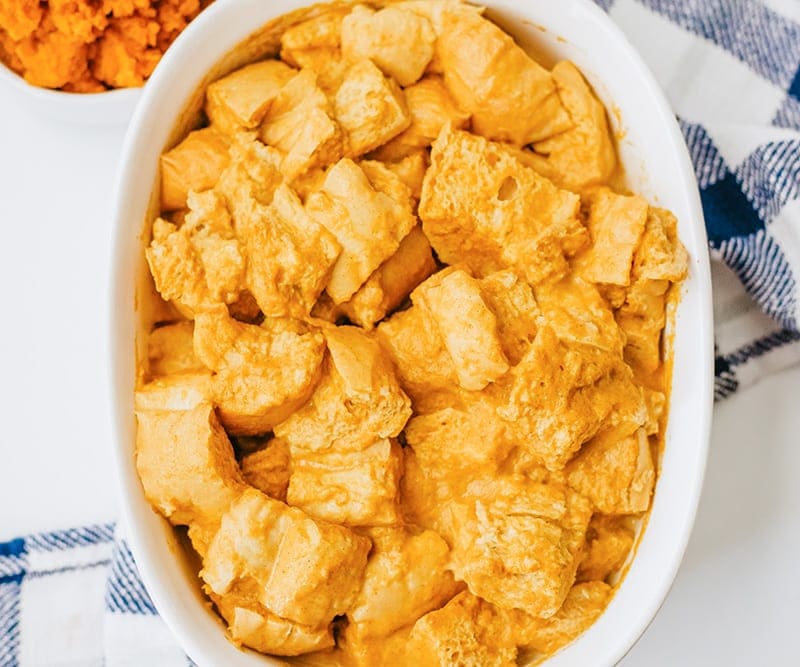 Step 5. Rest out of the oven for 10 minutes before drizzling generously with caramel sauce.
Serve with ice cream, cream or custard on the side.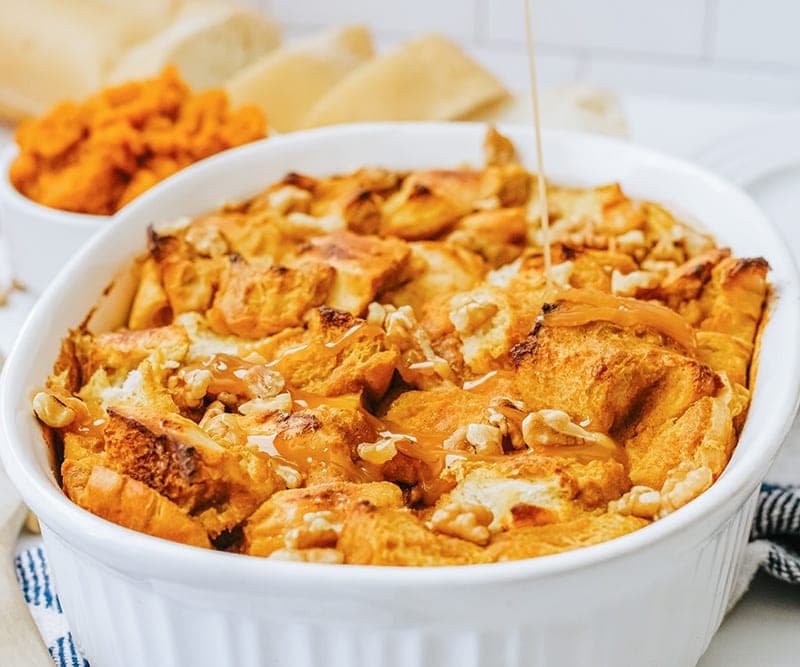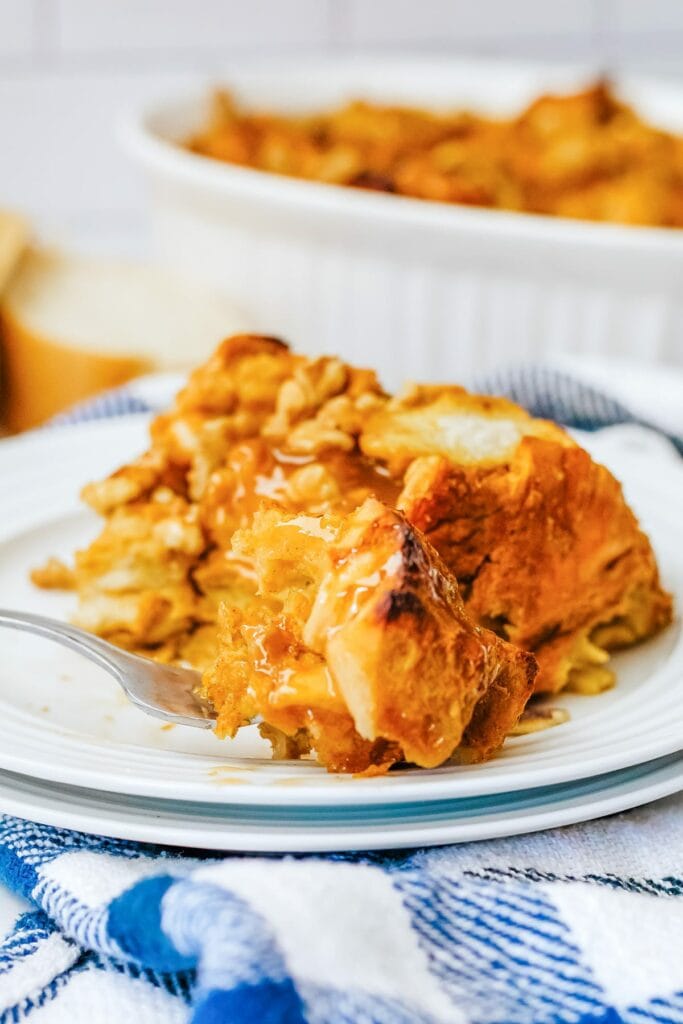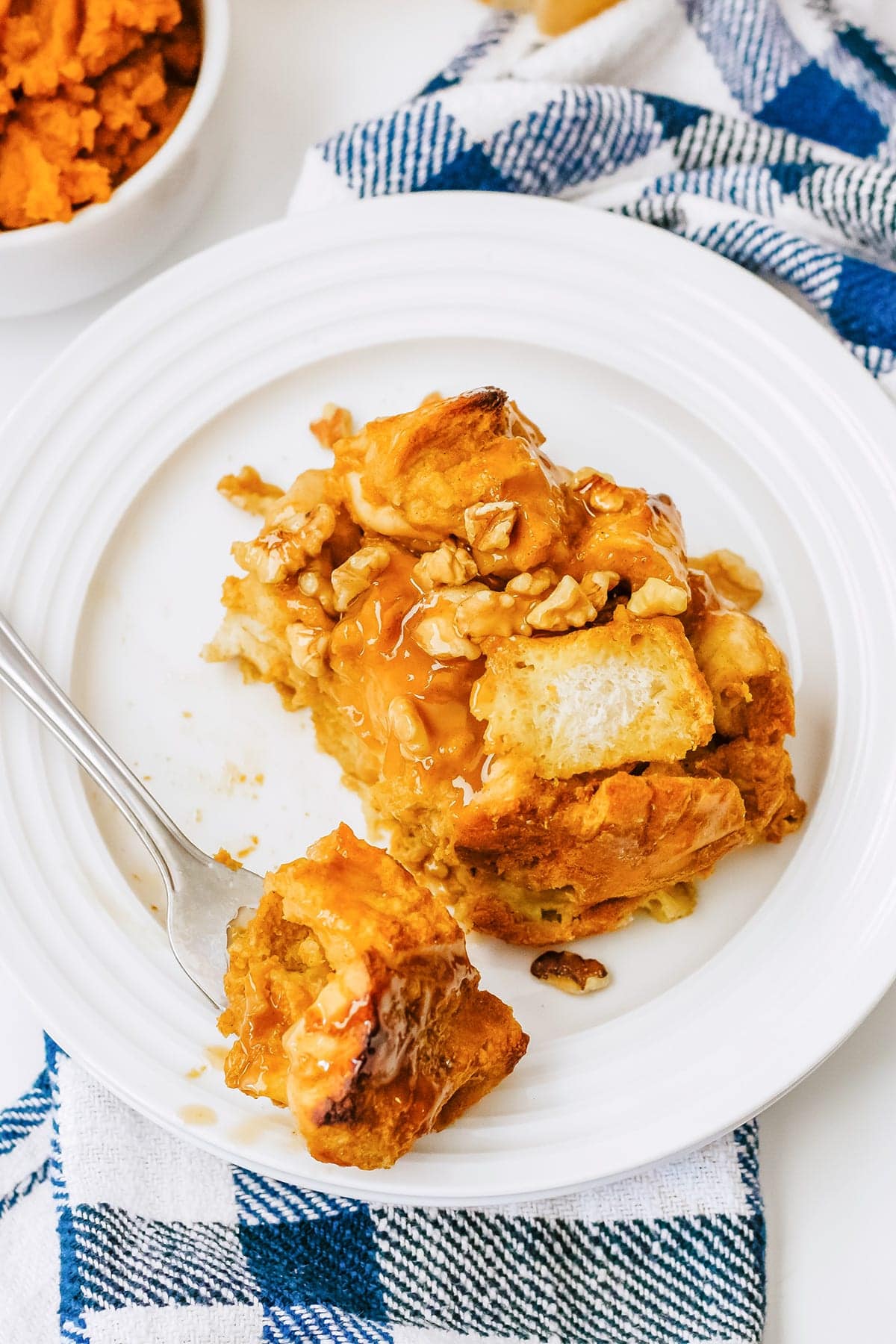 Watch How To Make This Bread Pudding
Recipe Tips
Overall, this recipe is very easy and it's about impossible to mess up for any level of cook.
You can use any bread that's nice and thick. If the bread is too thin, it will just turn into a mushy mess. Leftover baguettes are great, or even dinner rolls.
This recipe is great for using up older or stale bread, if you have it. Do not use moldy bread, obviously.
Be sure to get 100% pumpkin for your puree and not the pumpkin pie mix.
Caramel sauce is a delicious addition to this recipe, which could be swapped for vanilla or chocolate sauce, or extra fresh custard. Salted caramel sauce will add a delicious twist as well.
Bread Pudding FAQS
What is bread pudding?
Bread pudding is a delightful dessert made by soaking stale bread in a mixture of custard-like sauce, then baking until it becomes moist and tender.
What does bread pudding taste like?
Bread pudding has a comforting, custard-like texture with a delicious blend of sweet and spiced flavours. This Pumpkin Bread Pudding offers a delightful pumpkin twist!
How to serve bread pudding?
Serve warm, topped with a drizzle of caramel sauce, a scoop of vanilla ice cream, or a dollop of whipped cream for an extra treat!
What is the best bread for bread pudding?
Stale white bread or brioche works best for bread pudding, as they absorb the custard well and become tender when baked.
How long does bread pudding last?
When stored properly in the refrigerator, bread pudding can last 3-4 days.
How to store bread pudding?
Store leftover bread pudding in an airtight container in the refrigerator for up to 3-4 days.
Can you freeze bread pudding?
Yes, you can! Freeze individual portions in an airtight container for up to 2-3 months. Reheat in the oven when ready to enjoy.
How to reheat bread pudding?
To reheat bread pudding, simply pop individual servings in the microwave for about 30 seconds to 1 minute until warm. Alternatively, reheat in the oven at 350°F (175°C) for 10-15 minutes.
How many calories are in bread pudding?
The calorie count varies based on the ingredients used, but on average, bread pudding contains around 300-400 calories per serving.