Slow Cooker Chicken Tikka Masala is a flavourful and aromatic dish that combines tender chicken with a creamy tomato-based sauce and a blend of Indian spices. This recipe is a delicious and easy way to enjoy the exotic flavours of Indian cuisine without spending hours in the kitchen.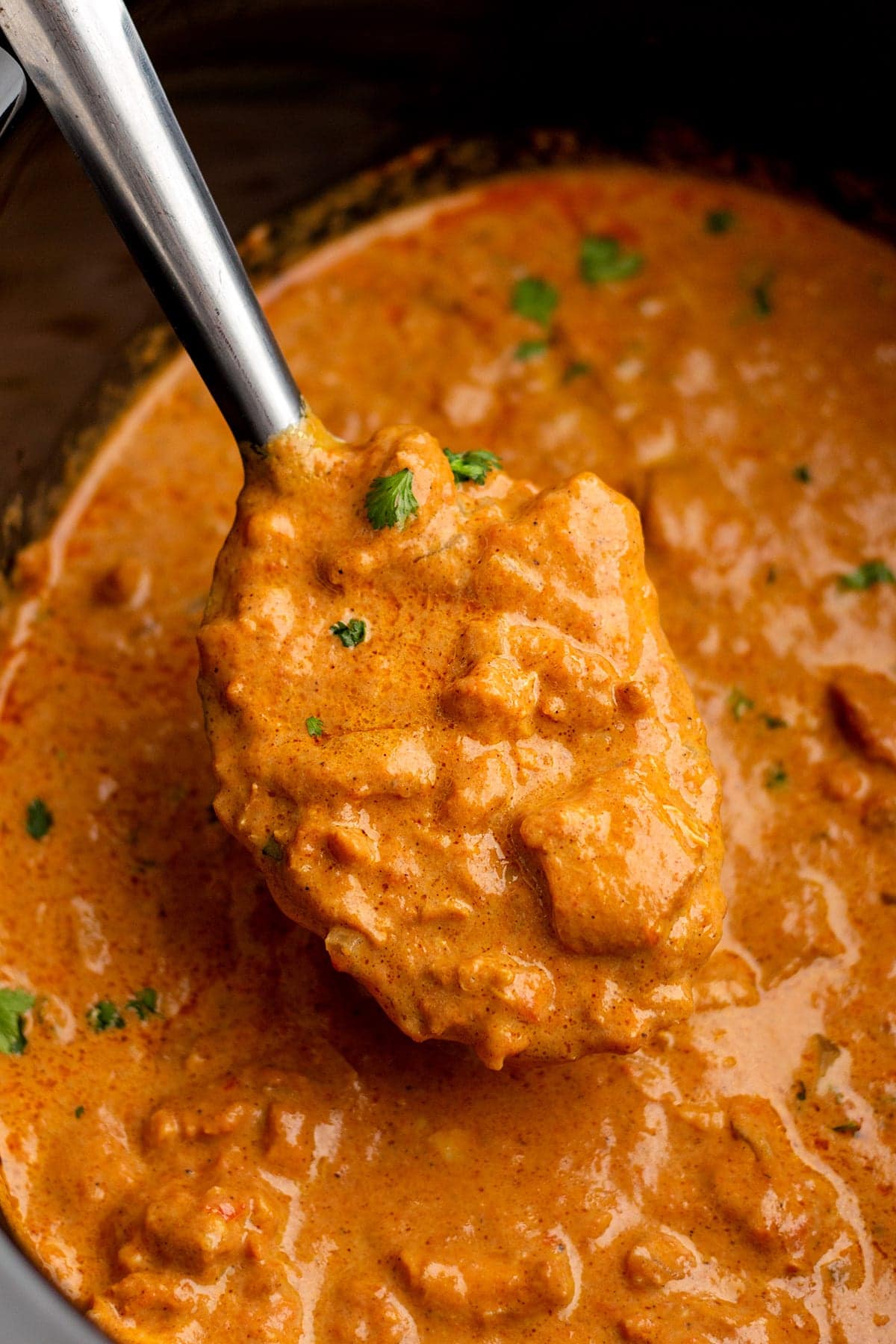 What Is Tikka Masala?
Tikka Masala is a classic and beloved Indian dish known for its rich, savoury, and mildly spiced taste. It typically consists of small pieces of marinated and grilled or roasted meat (usually chicken, but can also be lamb or paneer) served in a creamy and spiced tomato-based sauce.
The origin of Tikka Masala is somewhat disputed, with some claiming it originated in India, while others believe it was created in the UK. Regardless of its origins, the dish is now considered a classic part of Indian cuisine and I love making it in the slow cooker!
The marinade for the meat often includes a mixture of yogurt and various spices like cumin, coriander, turmeric, garam masala, and chili powder.
The tomato-based sauce is typically made with a combination of tomatoes, cream, butter or ghee, and a blend of aromatic spices, giving it a delightful, slightly sweet and tangy flavor.
Tikka Masala is best served with fragrant basmati rice, naan bread, or roti, allowing you to soak up every bit of the delectable sauce but you can also do a side of low-carb cauliflower rice or veggies.
It's a comforting and delicious dish that offers a wonderful introduction to the bold and intricateflavourss of Indian cuisine.
👉 If you're looking for more Indian-inspired recipes, make sure to try my healthy chicken tikka masala with spinach & cranberries, paleo cauliflower & pumpkin 'dal' , or the coconut lamb curry.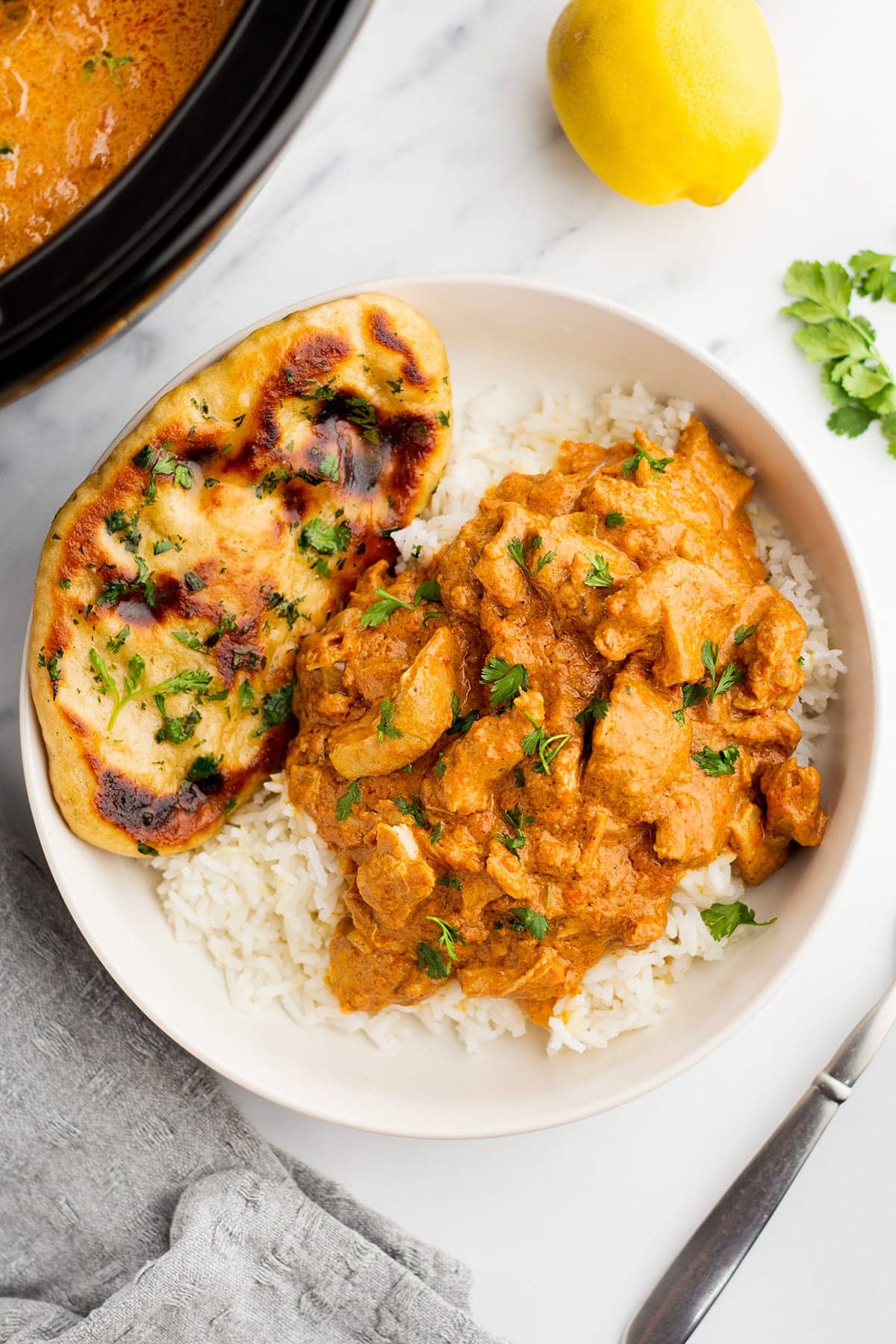 Slow Cooker Version
This is a bit of a dump-n-go recipe so you can enjoy this delicious curry without the fuss of spending hours in the kitchen.
I use accessible ingredients and spices and you can set the dish to cook ahead of time. The result is succulently tender meat and flavourful, developed sauce that only needs a few touches at the end of slow cooking.
Ingredients
Here is what you need to make this recipe:
Main ingredients: chicken thighs, butter, onion, garlic, fresh ginger, tomato sauce, heavy cream, cornstarch for thickening (plain flour could also be used).
Spices: garam masala, turmeric, cumin, paprika, cinnamon, cayenne pepper or chili powder.
To serve: cilantro or parsley
Can I Use Chicken Breast Instead Of Thighs?
Yes, of course. Simply cut the boneless skinless breast into bite-size pieces and use them instead of the chicken thighs.
How To Make Slow Cooker Chicken Tikka Masala
The full recipe card with nutrition info is below. Here are some handy step-by-step photos.
Step 1. In a large slow cooker (4 or 6 quarts), combine the butter, chicken, onion, garlic, ginger, salt, and spices. Add the tomato sauce and stir well to combine.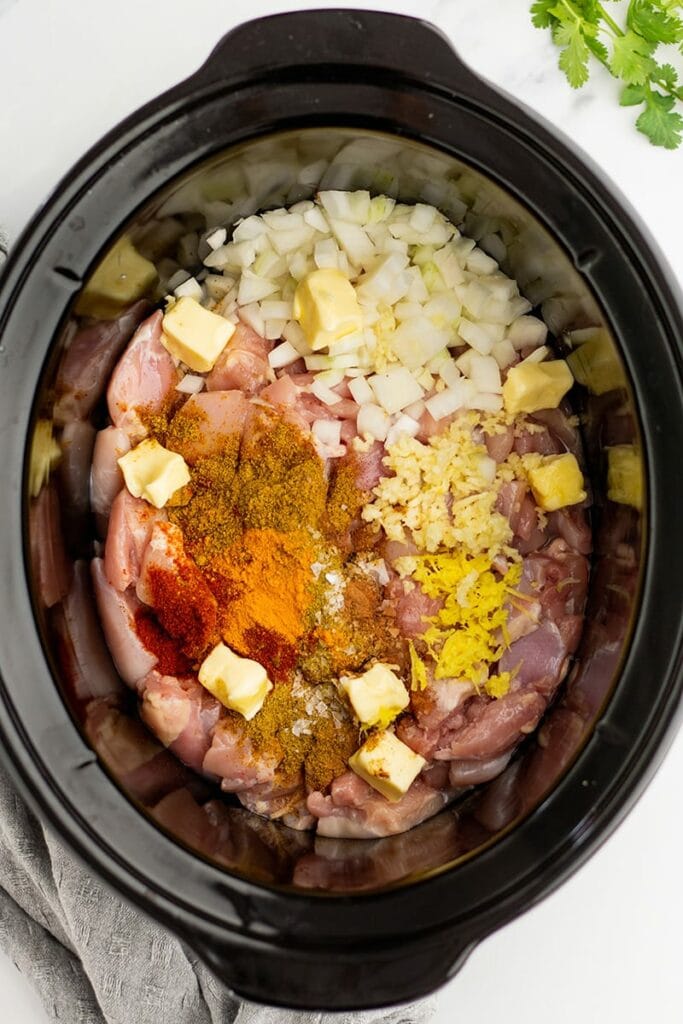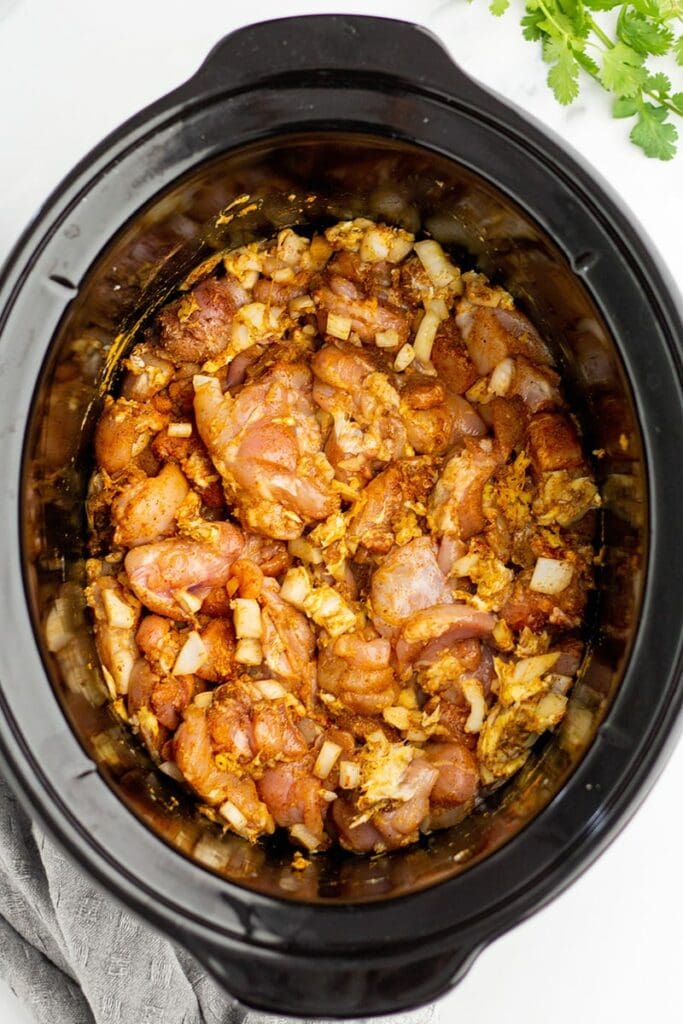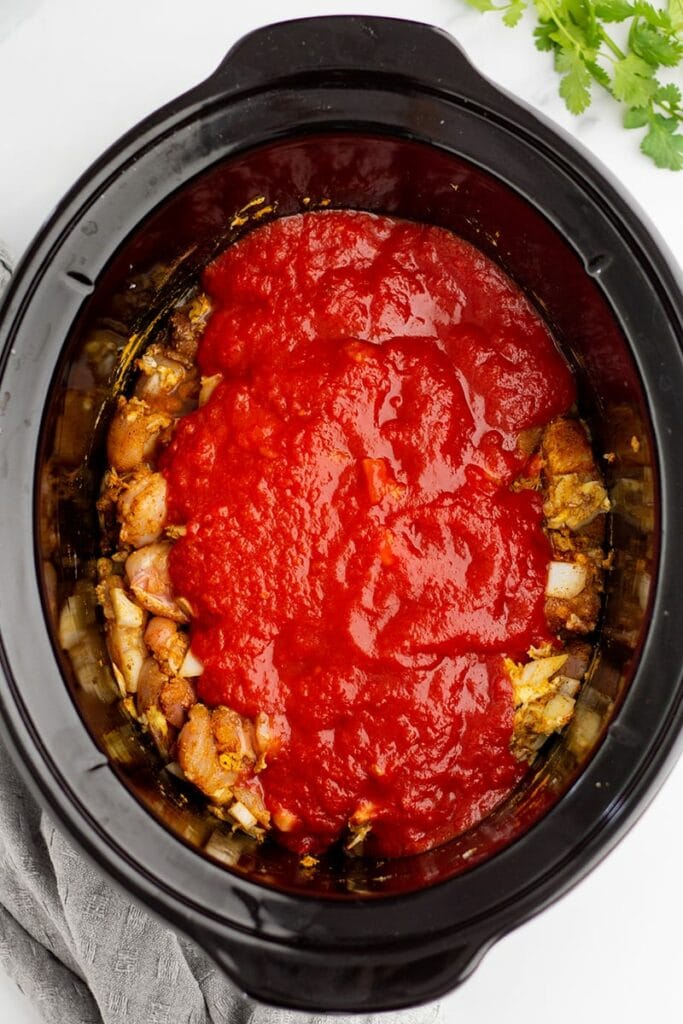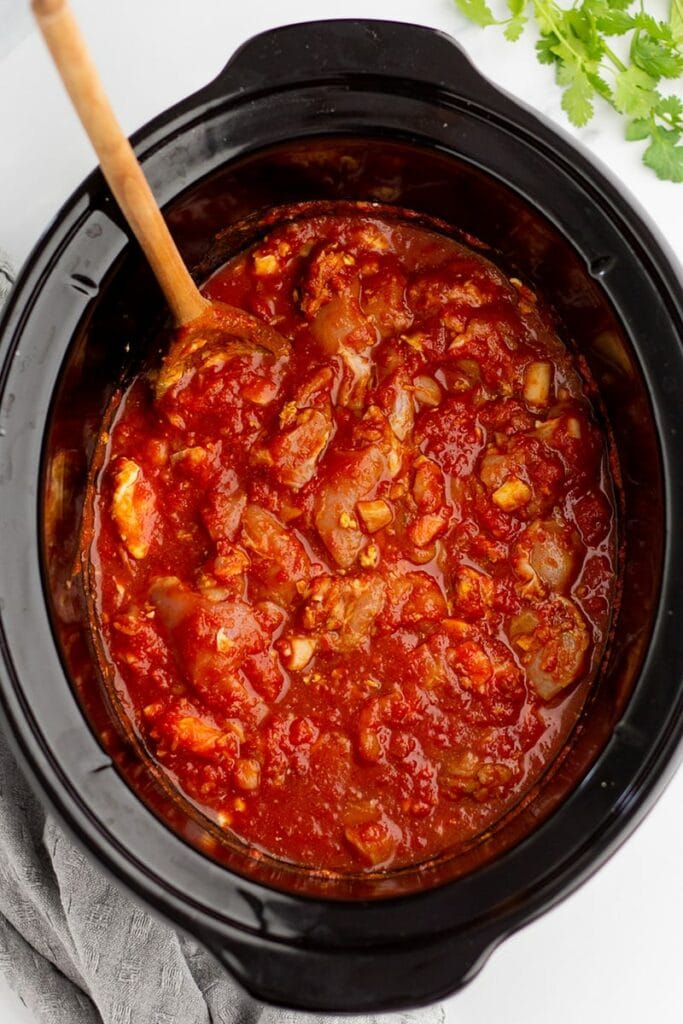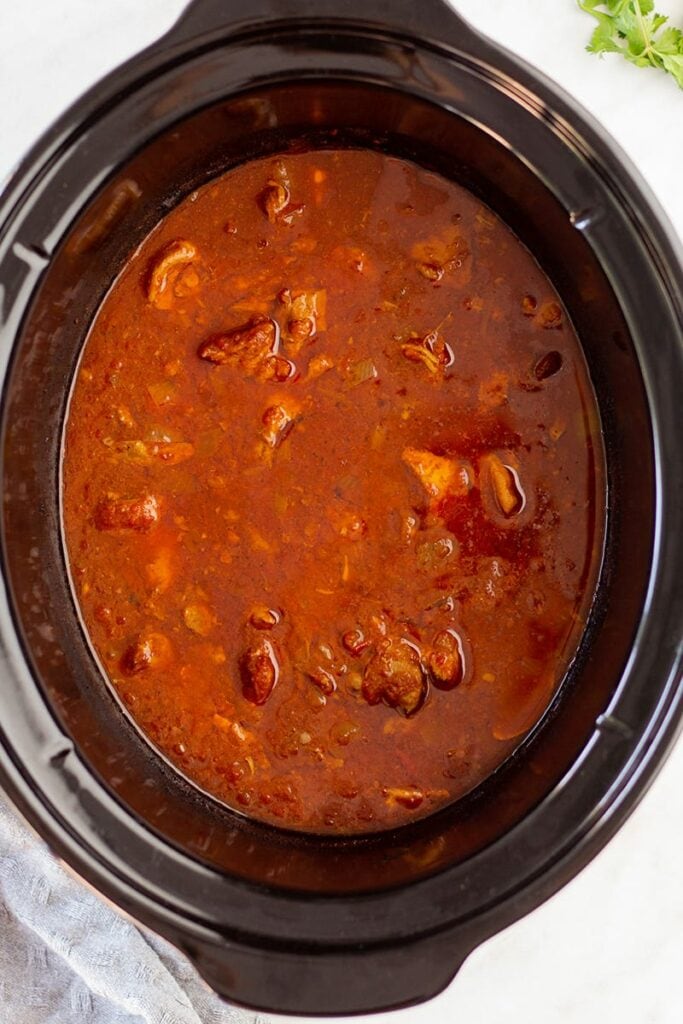 Step 2. Cover and cook on high for 3-4 hours or on low for 5-6 hours.
Step 3. Once done, remove the lid and stir in the heavy cream.
Serve the chicken tikka masala in a bowl over rice and some naan. Garnish with freshly chopped cilantro and enjoy!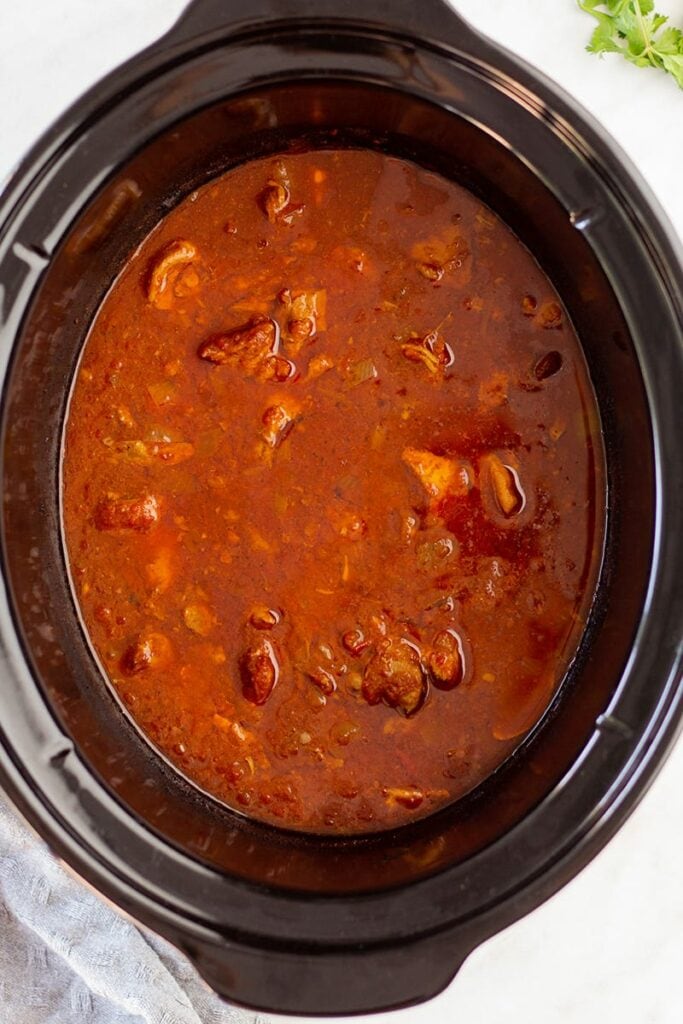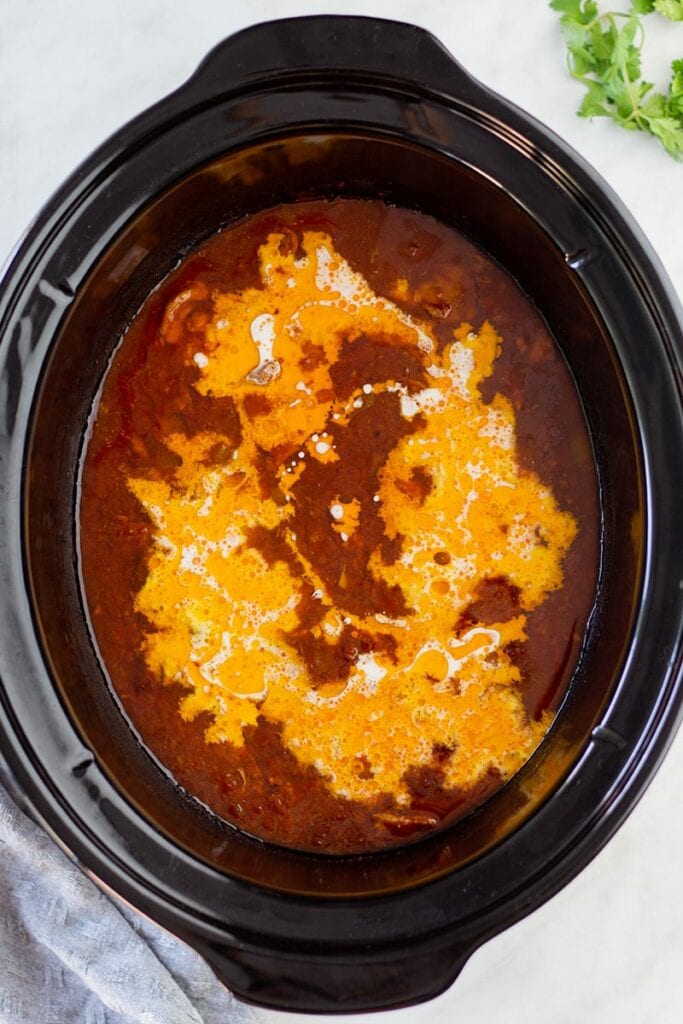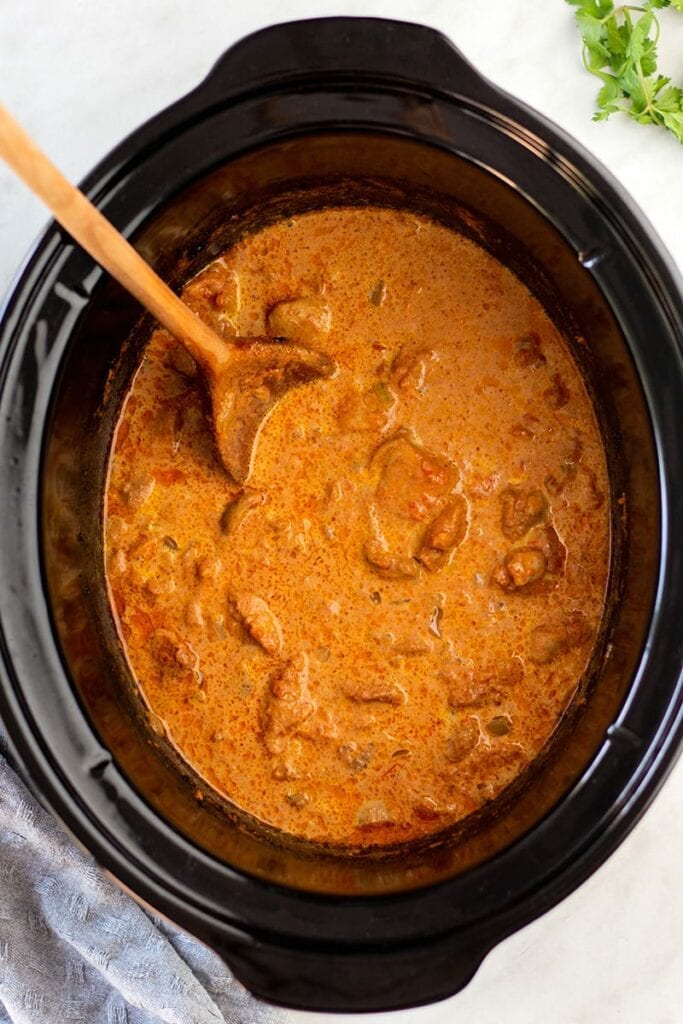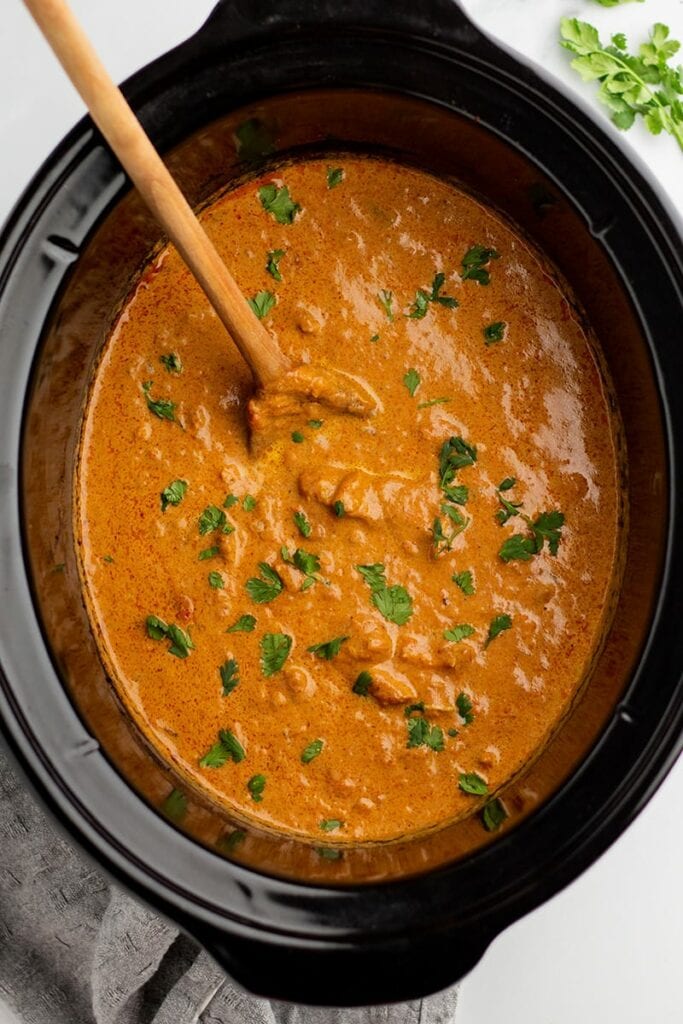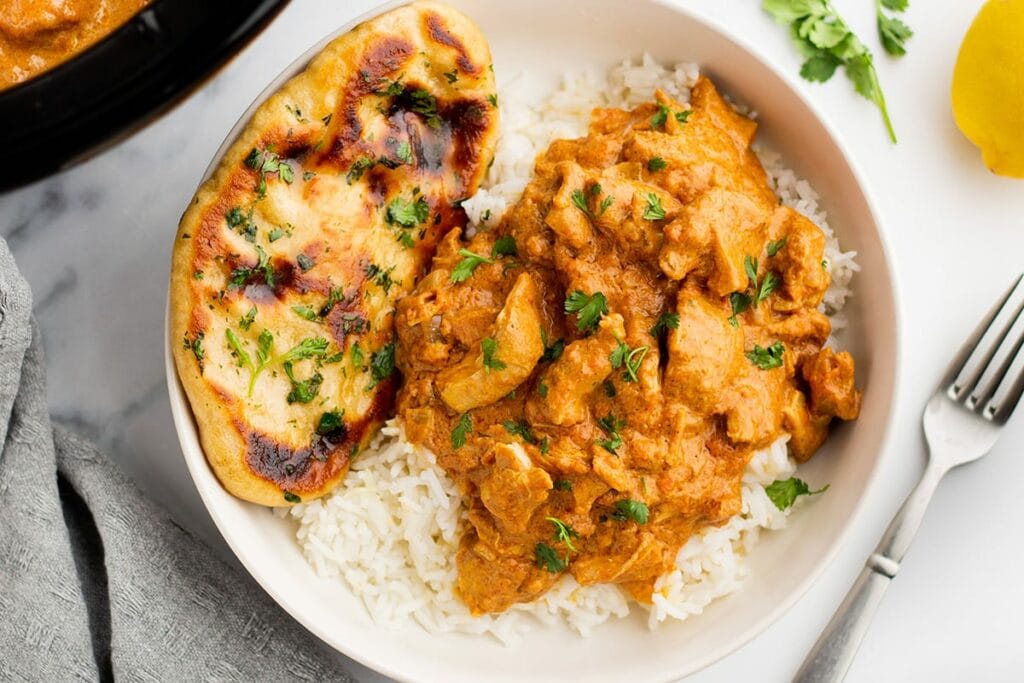 What To Serve With Chicken Tikka Masala?
You can serve this versatile dish with a variety of accompaniments. Some popular options are:
Rice: fluffy basmati rice is a classic side dish.
Naan Bread: The warm and pillowy naan bread is an excellent way to scoop up the rich and creamy sauce. Try this easy garlic naan bread.
Vegetables: Steamed or roasted vegetables like carrots, broccoli, and cauliflower are a great side dish to balance out the richness of the dish.
Tikka Masala Variations
To make this dish dairy-free, swap the heavy cream for full-fat coconut milk. This will slightly change the flavor but it will still be rich and creamy.
To make this recipe vegetarian simply substitute the chicken with chickpeas, tofu, or paneer (a type of Indian cheese). You can add some vegetables, such as cauliflower, bell peppers, or potatoes. Check out this paneer tikka masala from Cook With Manali.
If you are gluten-free make sure all the ingredients and spices that you are using are certified gluten-free.
If you like it spicier, simply add more cayenne pepper. If you prefer milder, simply reduce or skip the cayenne pepper in the recipe. Also, you can add more cream or yogurt to balance out the spice.
You can also substitute the chicken with other types of protein, such as beef, lamb, or even shrimp. Make sure to adjust the cooking time accordingly.