This spinach cheese bread recipe is packed with flavour and nutrients. Picture this: a golden, cheesy loaf with the goodness of spinach, feta, a little blue cheese and crunchy seeds. And the best part? I've got your back with step-by-step photos to make it a breeze.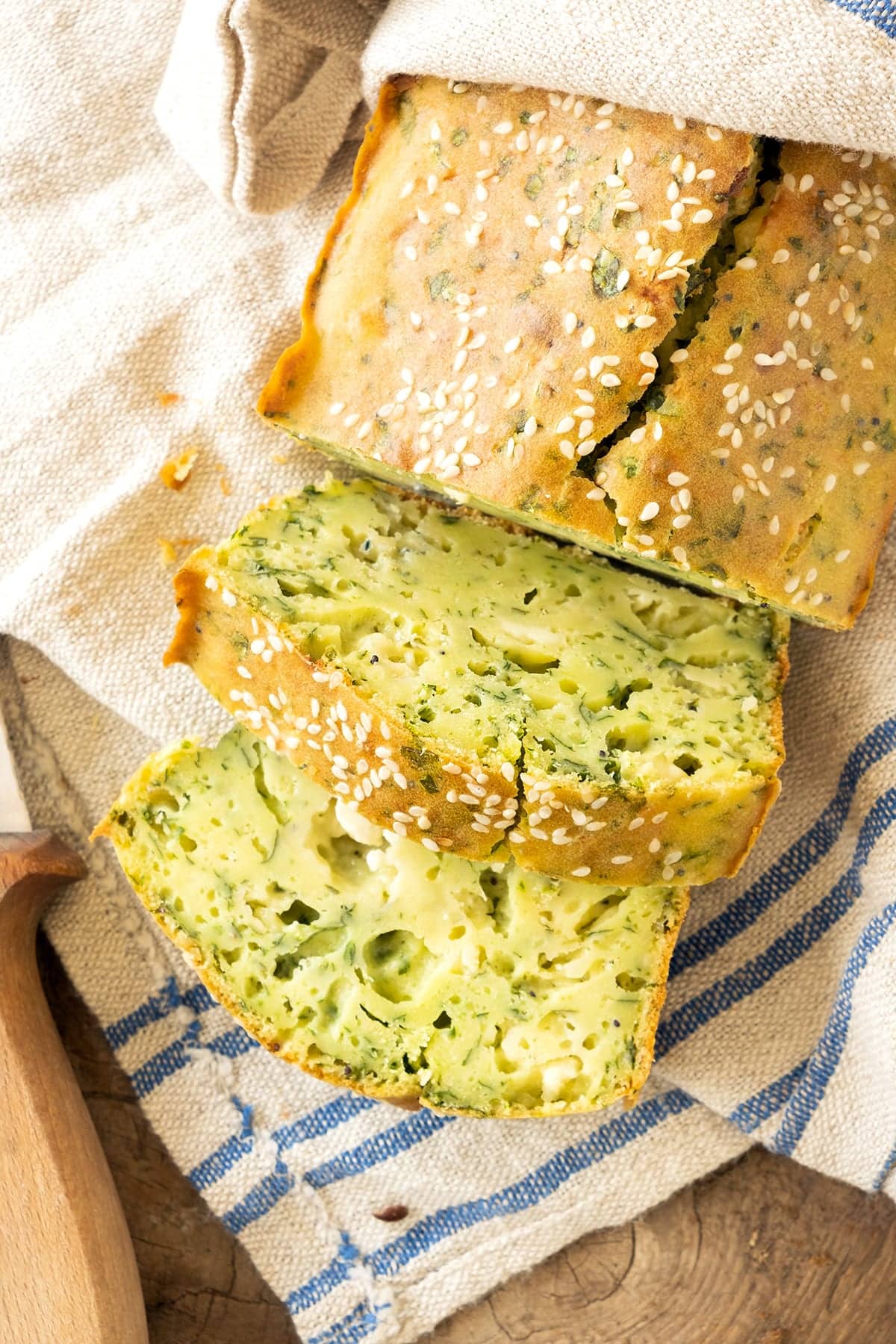 If I'm gonna share a bread recipe, it better be packed with flavour and nutrients, like this delicious spinach cheese bread.
This savoury gem combines a little blue cheese, crumbled feta, and fresh spinach all snuggled up in a homemade loaf.
What sets it apart? It's not just a flavour explosion but is easy and nutritious, too. It's high in Vitamin A, calcium, zinc and folic acid, and with 11-12 grams of protein per slice, it's quite satiating. A large slice of spinach cheese bread with avocado and two soft-boiled eggs will get you close to 30 grams of protein for the meal.
This bread recipe requires no kneading and it's made like banana bread in a loaf pan. The texture is denser than your typical fluffy loaf of bread but that is its uniqueness. Keep that in mind so you don't expect a sourdough masterpiece here. It's not that kind of bread!
You can make it with gluten-free flour or regular flour and it's perfect for breakfast, a snack, or a delicious sidekick to your meals.
Whether you're a seasoned baker or just starting out, make sure to give it a try. Plus, with step-by-step photos, you've got this in the bag! Let's dive in!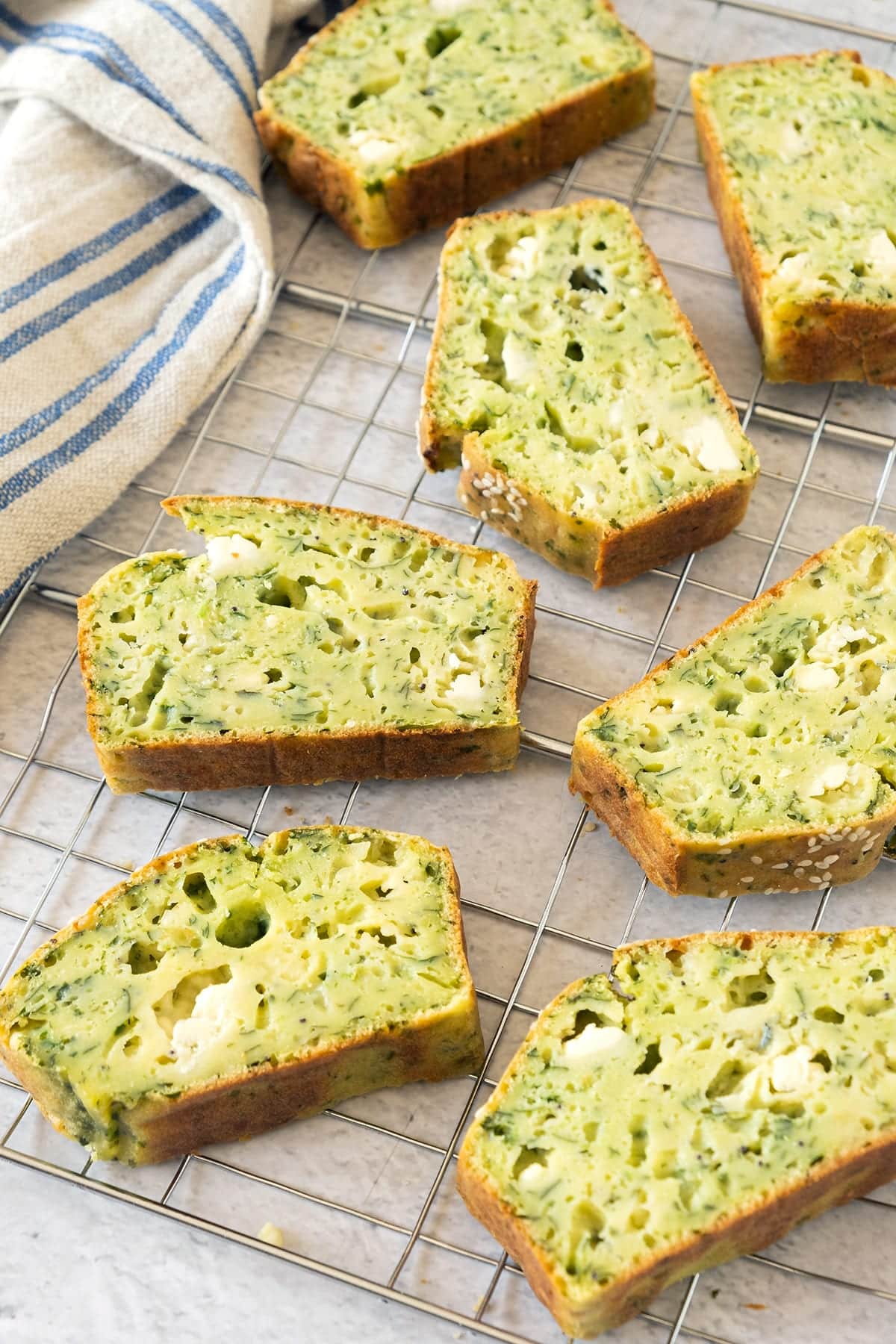 Ingredients
Here is what you need to make this cheesy spinach bread recipe:
Flour: The base that gives our bread structure, you can use all-purpose or gluten-free for this recipe. I haven't tried making a grain-free version of this.
Cornmeal: Adds a delightful crunch and rustic flavour, I really like it.
Eggs: The binding agent that holds everything together.
Greek yogurt: Keeps the bread moist and tender. There is something about yoghurt in baked goods, it just works.
Olive oil: Also for moisture but also adds a pleasant flavour. Light olive oil will give you a more mild taste and lighter colour.
Baking soda: The secret for that perfect rise.
Salt: You can use kosher salt or Himalayan salt (use lumps for character). Adds a unique touch of saltiness.
Garlic powder: Infuses a gentle garlic aroma. I sometimes add a little onion powder too.
Poppy seeds and sesame seeds: For that satisfying crunch and nutty notes.
Blue cheese (chopped) and Feta cheese (crumbled): The stars of the show, adding creamy, tangy goodness. Pro Tip: Feel free to switch up the cheeses if you're feeling adventurous!
Fresh spinach: The green powerhouse that adds colour and nutrition.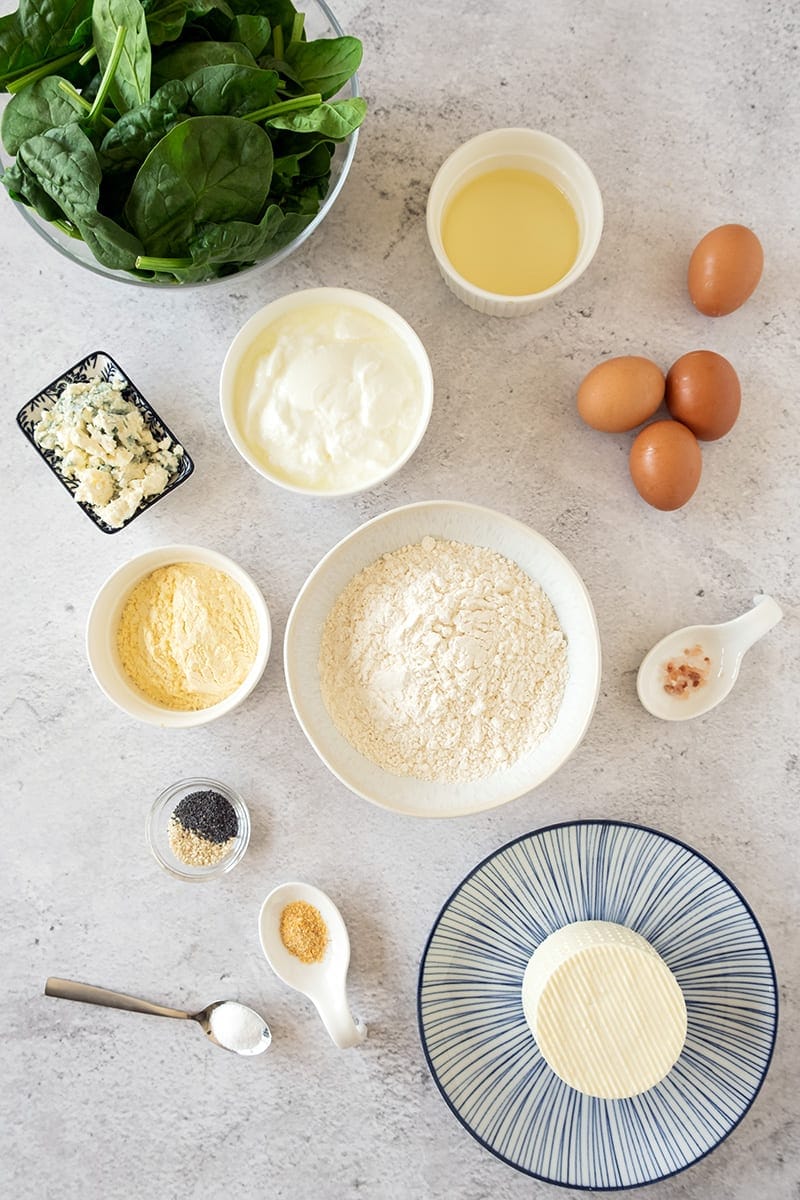 How To Make Spinach Cheese Bread
Find the full list of ingredients, nutritional info, and instructions in the recipe card below. Here are some step-by-step pictures to guide you along.
Step 1. Preheat your oven to 375°F (190°C). Line a loaf pan with baking paper.
Step 2. Mix baking soda with yogurt in a bowl, then set it aside until small bubbles appear.
Step 3. In a large bowl, beat the eggs with oil.
Step 4. Add the yogurt mixture and salt to the egg mixture, then give it a good stir.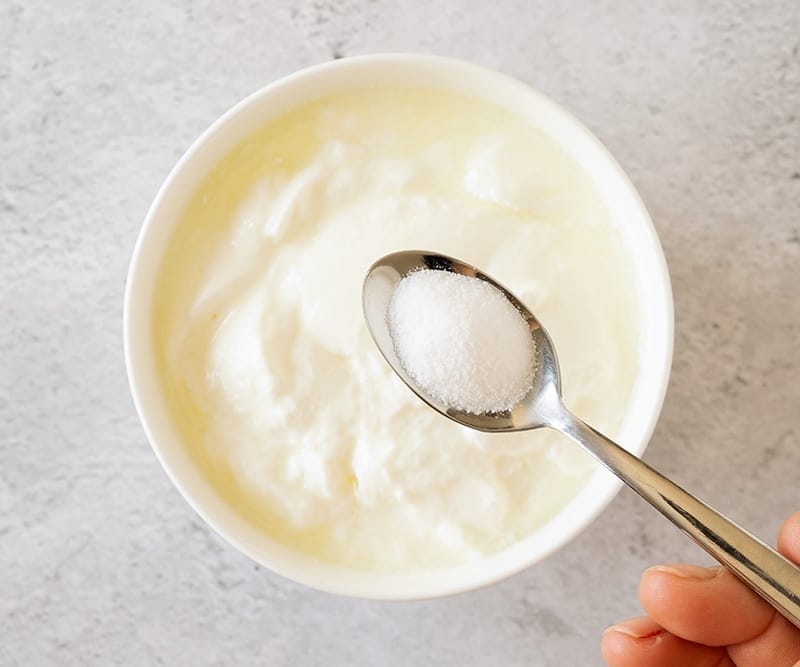 Step 5. Sift together the plain flour and cornmeal in another bowl. Add half to the egg mixture and combine.
Step 6. Chop or process the spinach until you have small pieces (no over-blending, please!), and add it to the batter mixture. Stir well.
Step 7. Add the rest of the flour/cornmeal along with half of the poppy and sesame seeds and all of the garlic powder, to the spinach mixture. Stir well. It should be smooth but not super thick.
Step 8. Now, add in the crumbled feta and chopped blue cheese. Give it another good stir.
Step 9. Pour the mixture into the loaf pan, and sprinkle the remaining poppy and sesame seeds on top. Place it in the oven, ensuring the rack is in the middle. Bake for 30 minutes or until it's a glorious golden brown. To be sure it's done, poke it with a toothpick. If it comes out clean, you're good to go!
Cool the loaf in the pan until warm before removing and slicing.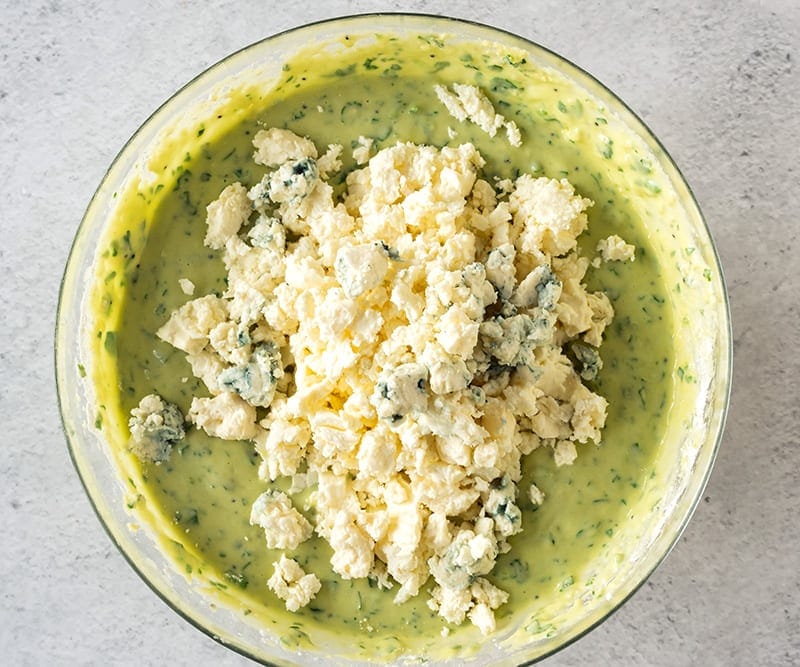 Recipe Tips
Spinach prep: When blending the spinach, be careful not to over-blend; we want small pieces, not a mushy puree.
Cheese choice: While I love blue cheese and feta, feel free to experiment with your favourite cheese varieties. Just keep the overall cheese quantity similar.
Baking time: Keep an eye on the bread in the oven. It should be golden brown and a toothpick should come out clean when inserted in the center.
Slicing tip: For clean slices, allow the bread to cool for a bit before cutting. A serrated knife works wonders here.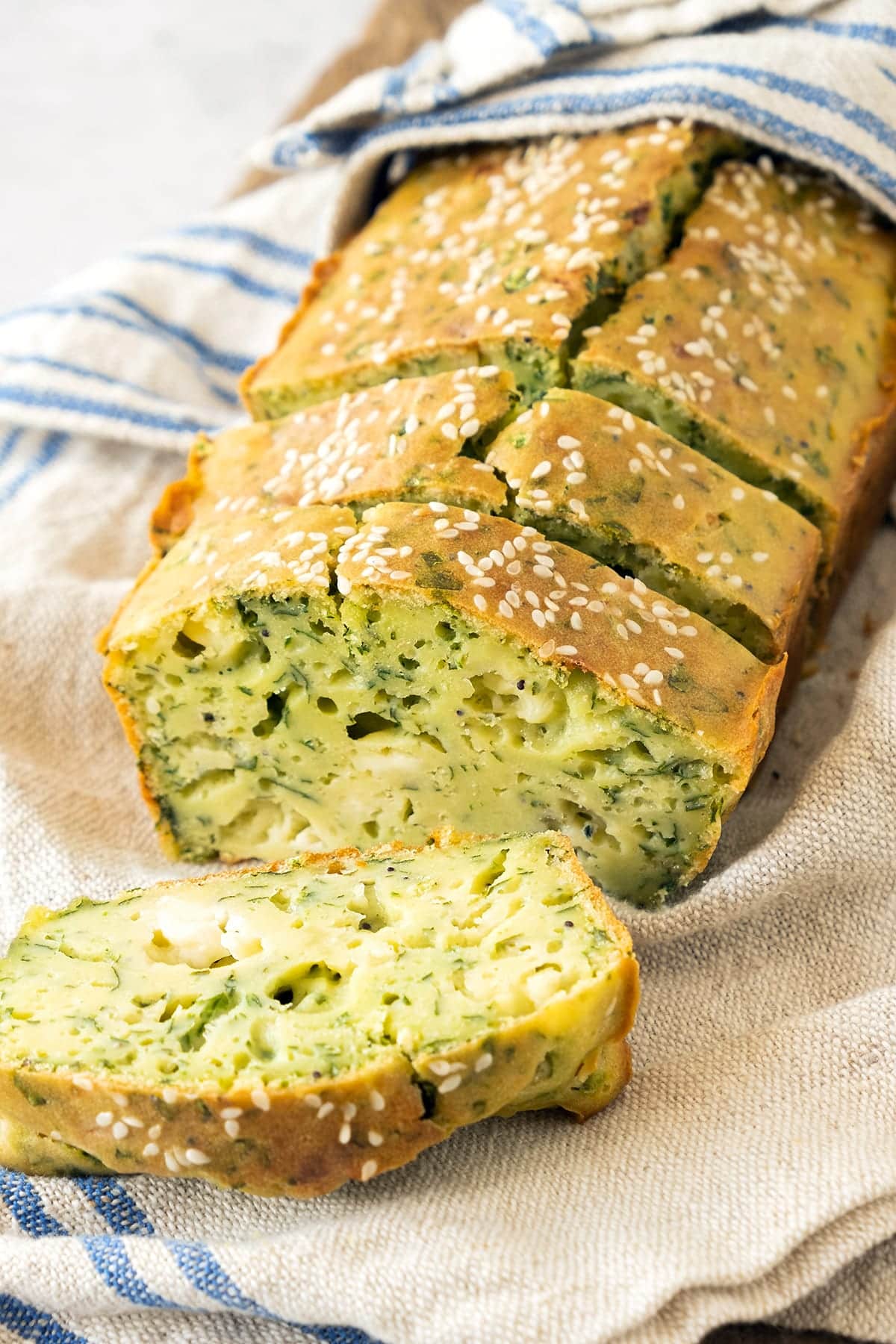 Serving Suggestions
Wondering what to pair with this spinach cheese bread? Here are some side dishes:
Mixed greens salad: Keep it fresh and light with a simple salad dressed with vinaigrette. The bread's cheesy richness pairs wonderfully with crisp greens. Try my simple side salad or Mediterranean couscous salad.
Lunchbox set: Add it to your lunchbox with a boiled egg, cherry tomatoes, olives and hummus or layer a few slices of ham or salami on top for a delicious sandwich.
With soup: A warm bowl of soup is the perfect companion to this bread. Dip it in, and you're in for a comforting meal. Try my roasted cherry tomato soup recipe or my chicken potato soup.
With stew: Whether it's a bowl of hearty beef stew or a Spanish vegetable stew, this cheesy bread would be a great addition.
Pasta perfection: Serve slices of this bread alongside your favourite pasta dishes. It's an excellent sidekick for spaghetti, lasagna, or creamy Alfredo.
Mediterranean spread: Create a Mediterranean-inspired feast with hummus, olives, and fresh veggies.
Serve with Mediterranean meat dishes: This bread would be a great accompaniment to my lamb kabobs with Greek salad or roast garlic lemon chicken.
Put an avo on it: Toast a slice and spread with creamy avocado topped with cherry tomatoes and a sprinkle of salt or dukkah. Add a fried or boiled egg for an even more satiating meal.
Variations
Put your own spin on this delicious cheesy spinach bread. Here are some variations and flavour twists to consider:
Add a burst of freshness with herbs like rosemary, thyme, or oregano. Simply mix them into the dough for an aromatic upgrade.
While blue cheese and feta are fantastic, feel free to experiment with different cheeses. Try cheddar, mozzarella, or goat cheese for unique flavour profiles.
Enhance the texture and taste by tossing in some chopped nuts like walnuts or pecans. They'll add a delightful crunch.
For a tangy kick, add chopped sun-dried tomatoes to the mix. Their intense flavour complements the cheesy goodness.
Want a bit of heat? A pinch of red pepper flakes or some diced jalapeños can give your bread a spicy twist.