This delicious sun-dried tomato aioli is a versatile condiment that can be used as a sandwich spread, salad dressing, or a dip. Make it today with our easy-to-follow recipe and check out our tasty ideas for how to use it up.
​​​​​​​
This garlic and sun-dried tomato aioli is made with a handful of simple ingredients and can be done in minutes. It's flavorful, versatile and can be stored for a few days in the refrigerator. Let us inspire you with how to use it and then walk you through with our super easy recipe.
Ideas For Using Sun-Dried Tomato Aioli
Sun-dried tomato aioli is a delicious and versatile condiment that can elevate various dishes with its rich and tangy flavor. Here are some ideas for using this aioli:
Sandwich Spread: Use sun-dried tomato aioli as a spread for sandwiches and wraps. It pairs wonderfully with grilled shrimp, roasted vegetables, or even as a dressing for a Caprese sandwich.
Burger Topping: Add a dollop of aioli on top of your burgers, especially this breakfast burger. It complements beef, turkey, chicken, or veggie burgers and adds a burst of flavour to every bite. We also love it as an alternative to tartar sauce on the fish sandwich.
Dip for Veggies: Serve as a dip for raw vegetables like carrots, cucumbers, bell peppers, and cherry tomatoes. It enhances the flavours of the roasted veggies and is especially delicious with eggplant, zucchini and bell peppers. It's a great appetiser for parties and gatherings.
Dipping Sauce for Seafood: Enjoy sun-dried tomato aioli as a dipping sauce for seafood like shrimp, calamari, or grilled fish. It adds a zesty twist to the flavours of the ocean.
Accompaniment for Grilled Meats: Use as a condiment for grilled meats such as steak, lamb, or pork chops. It adds a tangy kick that complements the savoury flavours of the meat. It's great with chicken wings!
Pasta Sauce: Mix sun-dried tomato aioli into hot or cold pasta for a quick and flavourful sauce. Add some sautéed vegetables or grilled chicken to create a complete meal. It's great in a cold pasta salad!
Pizza Drizzle: Instead of traditional pizza sauce, spread sun-dried tomato aioli on your pizza crust as a base. It adds a unique twist! You can also thin it out with a little water and drizzle over the cooked pizza.
Crostini Topping: Spread sun-dried tomato aioli on toasted baguette slices and top with fresh basil, chopped tomatoes, or mozzarella for delicious crostini appetisers.
Stuffed Mushrooms: Use as a filling for stuffed mushrooms. Mix it with breadcrumbs, herbs, and cheese, then bake until the mushrooms are tender and the filling is golden.
Marinade Enhancer: Add a spoonful of sun-dried tomato aioli to your marinades for chicken, shrimp, or tofu. It will infuse the dish with a tangy flavor and help keep the meat tender and juicy.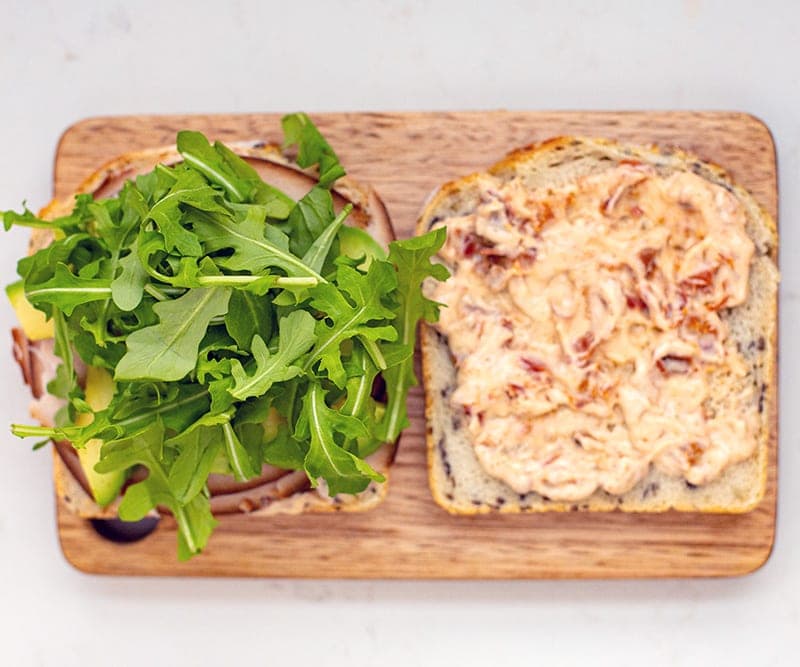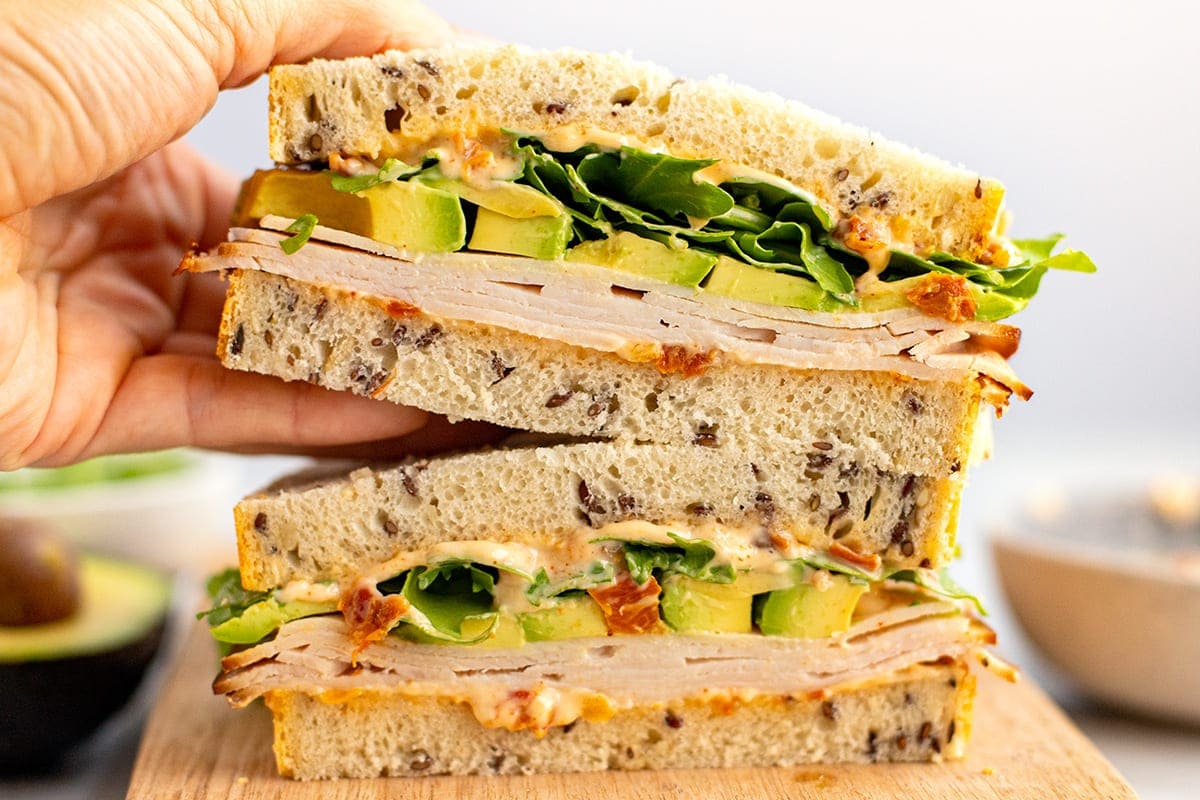 Ingredients
You will need good quality mayonnaise (not too sweet), garlic (fresh is always best for aioli), sun-dried tomatoes (the ones packed in oil) and smoked paprika.
Garlic adds a little spice and sharpness but if you want extra heat, you can add some hot sauce, chili flakes or Sriracha sauce.
To give it a more prominent tomato flavor, add a little tomato paste or ketchup.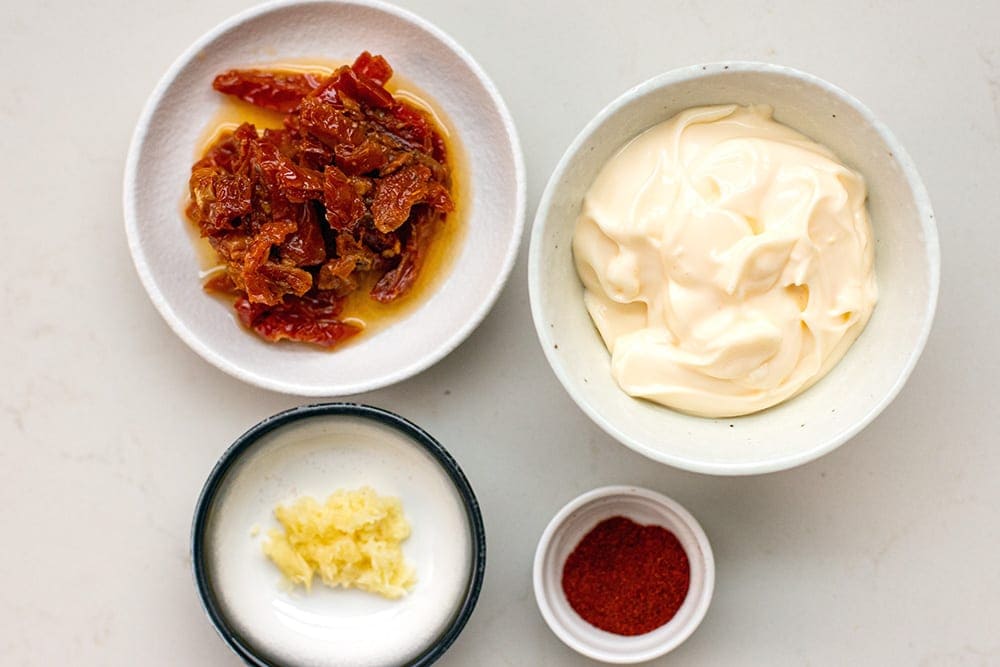 How To Make The Aioli
You can make this aioli by hand or by using an immersion stick blender or food processor.
No blender: Chop the sun-dried tomatoes finely and mix with minced/grated garlic, mayonnaise and smoked paprika. Whisk until smooth. This method will give you a more coarse consistency.
With a blender: Chop the sun-dried tomatoes roughly, especially if they come as whole pieces or halves. Add to a blender jug along with mayonnaise, chopped garlic and smoked paprika. Pulse puree with a stick blender until just smooth. Don't over-blend, or the aioli will get too thin and watery. This method will give you smoother consistency.